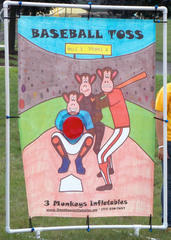 Baseball Toss Carnival Game
Baseball Toss Carnival Game Rental York Pennsylvania Area
3 Monkeys Inflatables is your Sports Game Rental Specialist in Lancaster, Harrisburg, Gettysburg, Dallastown, Elizabethtown, Millersville, Spring Grove, Wyomissing, Baltimore, Hagerstown and many more cities throughout Pennsylvania and Maryland.
Competive Game
Compete against the 3 Monkeys to throw/toss your ball into the "home plate/catchers mitt". Who will be able to get the win? Compete against one another for prizes, tickets, bragging rights, or just for the fun of it!
Easy Fun & Portable
Baseball Toss Carnival Game is an easy to play game that is completely portable to be setup indoors or outdoors so regardless of your event weather or type you can provide fun carnival games that are perfect for any age to participate and win!
Copyright © . 3 Monkeys Inflatables LLC. All rights reserved. Red Lion PA (717) 650-7657