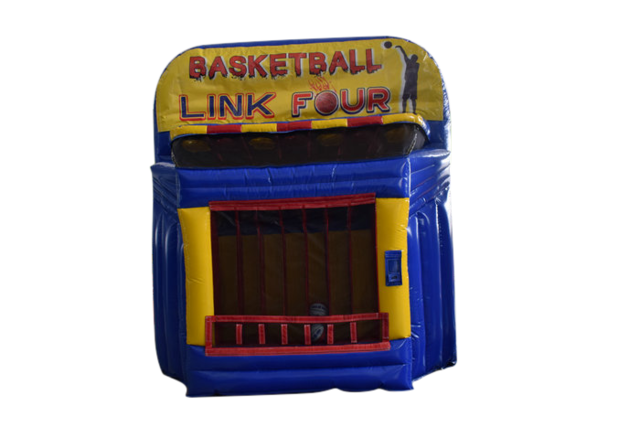 Basketball Link Four Inflatable Game
Basketball Link Four Rental York, PA
3 Monkeys Inflatable

Rentals delivering to York, Harrisburg, Lancaster, Carlisle, Baltimore, Reading, Camp Hill, Wyomissing, Towson, Owings Mills, and more Pennsylvania & Maryland Cities
3 Monkeys Inflatable Rentals provides this awesome basketball Link game where opponents take turns sinking their color balls (red and blue) to see who can connect 4 in a row first! This game works much like the classic connect four game only your are using basketballs and a little inflatation. Talk about a great twist on an old game. All ages will love this cool new game. This inflatable game is 10' X 8' and 11ft. tall. It is the perfect game for all ages and the nice thing is that mixed age groups can play together at one time and have a blast. This game is a great addition to other game rentals (Hose Hockey, Soccer Shoot out, Ice Hockey Shootout, Skeeball, Hooleyball) or even inflatable rentals. Pair this with a bounce house or an obstacle course and you will have a complete party. Basketball Link Four also does exceptionally well at school events, church events, carnivals, festivals, Maydays, college events, corporate functions, and more! It is a wonderful option as a ticket game too, because it can be played by more than one player and it goes quickly which results in the line moving at a nice pace making for happy guests.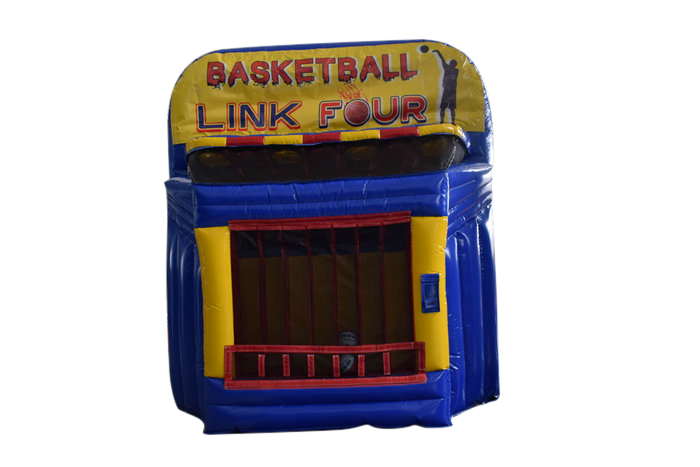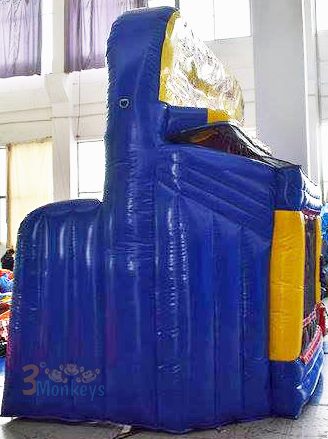 How to play Basketball Link Four
This inflatable game is played like the original Connect 4 game, with an added twist of shooting hoops instead of dropping discs. The object of this game is to get four basketballs, of the same color, in a line. The winning line can be diagonal, horizontal, or vertical. During this game, each player takes a turn at shooting a basketball to the top of the game's frame aiming for one of the openings. You must always take a shot when it is your turn, you cannot pass or forfeit your turn. Should you get more than 4 in a row, you lose or forfeit the game to your opponent. And yes, this can be done if you find yourself with no choice but to drop a ball into a space which is between your own colored balls, making 5 in a row. It is also possible to have a tie. This happens when the board is filled up, but no one has achieved the goal of 4 in a row. If a player gets 4 in a row, they are the winner!
Will you deliver Basketball Link Four to my city?
3 Monkeys Inflatables main delivery area is all Central PA and Northern MD. This does not mean however that we will not deliver to your city if you are not in one of those two locations. If there is any uncertainty on whether we will deliver to your area, please do not hesitate to contact the office by telephone at 717.650.7657 or by email at info@3monkeysinflatables.com. Please keep in mind that depending upon your location there may be an order minimum required, in addition to the travel fee. Some of our most frequented cities include York, Red Lion, Airville, Delta, Manchester, Spring Grove, Shrewsbury, Stewartstown, Glen Rock, Harrisburg, Lancaster, Mechanicsburg, Steelton, Chambersburg, West Lawn, Reading, Bel Air, Hunt Valley, Westminster, Baltimore, Towson, Anne Arundel, and more!
You deserve the best!
3 Monkeys Inflatables is the #1 provider for all your event and party needs in Central PA and Northern MD. We have it all, from inflatables like bounce houses, dry slides, water slides, obstacle courses, extreme interactives, to tents, tables, chairs, concessions, virtual reality, a trackless train, rock walls, bumper cars, and more! No matter how big or small your event it, 3 Monkeys provides the best to you and for you. We care about you and your event and want it to be the best, just like you do. Do not stress over party planning. Call one of our reservation specialists today so that we can help you find the perfect items for your event and check one thing off your list!

Basketball Link

Requirements

:
Occupancy: none - shoot from the ground outside of the unit (Please do not allow anyone to climb or hang in the unit)
Dimensions:
Outlets: 1 Standard 110 volt GFCI outlet within 100 feet of the unit.
Generator
Rentals are available.
Attendants/Monitors: This item requires (1) Attendant to stay with the unit while in use. You may use your own attendant, or book an attendant with us here . Read more about attendants here. If you are using your own attendant: Please be sure your attendant knows they are responsible for the balls within the unit to ensure they are with the unit when we pickup. Any missing balls would incur a replacement fee.
Setup: Please specify when you book this item if you will be setting up Indoors or Outdoors. If outdoors we would need to know specifically if it will be on grass or apshalt a minimum of 3 days prior to your booking. All anchors need to be secured using a spike or sandbag according the manufacture guidelines. We prefer to use ground stakes when possible, if this is not an option we will need to anchor using sandbags.
Setup Location:
1. Your setup location needs to be free of rocks, pet waste, sharp objects, or any other hazards.
2. We cannot setup under any utility lines and must have a clearance of 5 feet in all directions away from any obstacles.
3. Please make sure you clear a spot for us to park & unload the equipment as close to the location as possible. If your parking is further than 75 feet please notify our office or put it in the notes portion of your booking.
Includes:
Professional setup/tear down.
We are registered with the Dept of Pennsylvania/Maryland State Amusement Industry
We have Liability Insurance
Pre and Post Event Cleaning, Sanitizing and Inspection
Staking and/or Sandbagging
Tarping (not indoors as it becomes a safety concern)
Extension Cords (we bring out the extensions needed to get electric to the spot you are setting up in) Keep in mind we can only go 100 ft max.
Safety Training
Balls (red & blue) come with the game