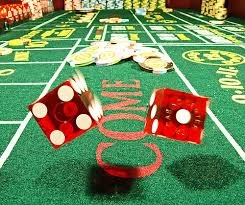 Craps
Craps Casino Rentals
3 Monkeys Inflatables are your Craps and Casino Rental Specialists in Harrisburg, Lancaster, Hershey, Baltimore, Hanover, and Towson Area.
Casino Games
Craps is probably the most difficult casino game to grasp. Players wager bets on the outcome of the roll of the dice. Each bet pays differently based on the odds of that roll coming up. In this game, the players are playing together instead of against each other or against the dealer, so it can be very social and a lot of fun….especially if the table is doing well.

About the Craps Table
Our Craps Casino Night table games is lined with grey carpet, the top has the standard craps felt, and the inside sides of the table are lined with mirrors which allow you to see the action better. Included in the rental are poker chips and the dice needed to play the game.

Payouts
In order to simplify the game for our events, we adjust the payouts on the dice rolls slightly in order to maintain full-chip payouts. We display a chart with the payouts so all players are aware of the amounts. We find this works well and allows new players to learn the game since we simplify the bets.