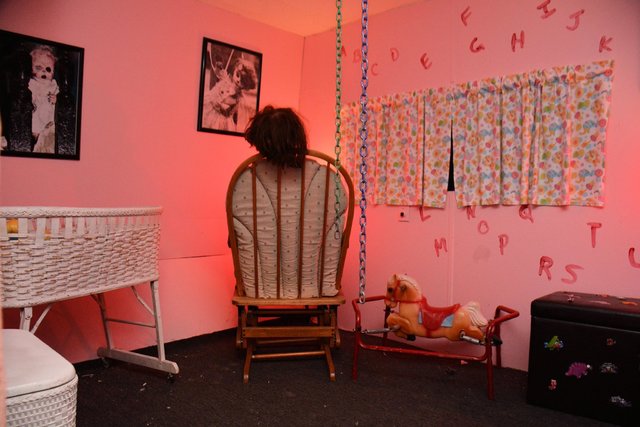 Creepy Nursery Mobile Escape Room
Creepy Nursery Mobile Escape Room PA & MD
3 Monkeys Inflatables offers Mobile Escape Room Rentals in Central PA and MD

15 minute escape room with a difficulty level of beginner/intermediate.
You are trapped in a creepy child's nursery by a madman that has left the room to go take care of some unfinished business. You have approximately 15 minutes to figure out the clues in order to solve the puzzles and unlock the toybox which allows you to escape the clutches of the madman. There are 4 puzzles to solve in this room before you complete the ultimate objective and escape. Our creepy nursery is very authentic and really provides the WOW factor that many mobile escape rooms experience to not. Teamwork is an essential part of all of our escape rooms as all the puzzles are different and each participant will have a different perspective on things which will ultimately lead the team to success….or not. Can you figure out the clues and escape before you become the next victim?

The pricing is for the combo of the Military Mobile Escape Room and the Creepy Nursery Escape Room Trailer. This is for up to 3 hours and comes with an Attendant.
ttps://youtu.be/pw-ZOYxBl8A
Copyright © . 3 Monkeys Inflatables LLC. All rights reserved. Red Lion PA (717) 650-7657