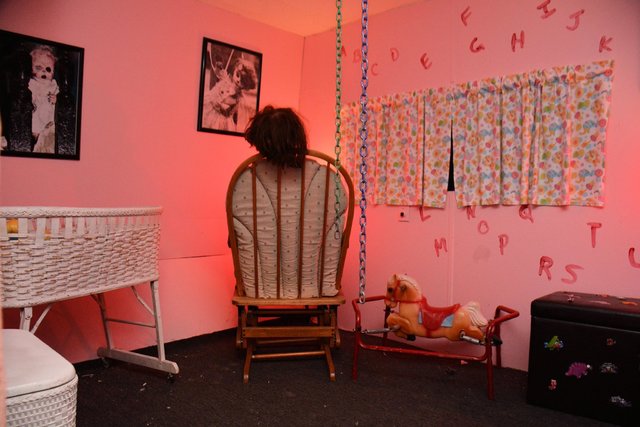 Creepy Nursery Mobile Escape Room
Creepy Nursery Mobile Escape Room PA & MD
3 Monkeys Inflatables offers Mobile Escape Room Rentals in Central PA and MD
About the Creepy Nursey
This room is typically a 15-minute escape room with a difficulty level of beginner to intermediate. Now, imagine this. You and your friends find yourselves trapped in a creepy, child's nursery by a madman that has left the room to go take care of some unfinished business. You have approximately 15 minutes to figure out the clues so that you can solve the puzzles and unlock the toybox which is what allows you to escape the clutches of the madman. There are 4 separate puzzles to solve in this room before you complete the ultimate objective and escape. Our creepy nursery is very authentic and really provides the WOW factor that many mobile escape room experiences do not. Teamwork is an essential part of all our escape rooms as all the puzzles are different and each participant will be able to provide a different perspective on things which will ultimately lead the team to success. Or not. Can you and your teammates figure out the clues and escape before you become the next victim of the madman? Time is ticking.
Double Escape Room Rentals
Please note that the pricing listed is for the combination of the Military Mobile Escape Room and the Creepy Nursery Mobile Escape Room Trailer. Yes, that is right. This trailer has two escape rooms with two different themes: one on each end of the trailer. You get twice the fun and challenge with this rental. This rental is for up to 3 hours and does include an Attendant from 3 Monkeys Inflatables.
Creepy Nursery, the introduction to the room.
Click play on this video where you will see the introduction to the Creepy Nursery Escape Room by the Madman himself. This video sets the scene of where you will be stepping into if you dare to walk inside our Creepy Nursery Escape Room. One of the best parts of this particular escape room is, that on location, we can easily adapt to either a 15-minute room or to a 30-minute room for your groups to solve the puzzles and hopefully they beat the clock! Our mobile escape rooms are great for larger events, corporate events, team building activities, school carnivals, community events, and more!
Delivery Area
3 Monkeys Inflatables delivers party fun and mobile escape rooms to all cities in, but not limited to, Central PA and Northern MD. You will often see our delivery trucks driving in Red Lion, York, Airville, Delta, Shrewsbury, Glen Rock, Stewartstown, Lancaster, Marietta, Columbia, Lititz, Manheim, Quarryville, Millersville, Landisville, Ephrata, Wyomissing, West Lawn, Reading, Coatesville, Bel Air, Baltimore, Westminster, Hunt Valley, Cockeysville, Towson, and many more. If you go through our online checkout process and your city does not come up with a delivery fee, please call the office at 717.650.7657 to confirm your location, delivery fee, and possibly a required order minimum depending upon the distance from our shop. We proudly serve both new and repeat customers in many different towns and cities