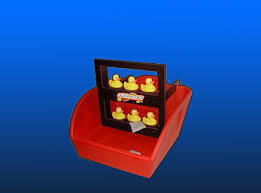 Duck Carnival Game
Duck Carnival Game Rental York Pennsylvania Area
3 Monkeys Inflatables is your Duck Carnival Game Rental Specialist in Lancaster, Dauphin, Harrisburg, Reading, Hershey, Hanover, Spring Grove, and Baltimore Area.
Fun and Easy Carnival Game
This is a fun carnival activity. Throw the bean bags and the ducks and see if you come up a winner! These bin games are perfect to put up to 2 per 8 foot table and create an amazing carnival booth look for your next party or event.
Perfect for all Ages!
The Duck Carnival Game Rental is so easy to win and play that it will be a perfect game to make sure you hit all your age groups at your party or event. It is easy enough for special needs or younger kids to participate but nostalgic carnival games that will be a great family and group carnival style game.
Kick it up a notch!
Who doesn't love trying to knock down something and expecially these cute little ducks. Create a trinket prize bucket to give to winners who might knock down 3 ducks with 3 try's, or make the odds easier if you would like.
Copyright © . 3 Monkeys Inflatables LLC. All rights reserved. Red Lion PA (717) 650-7657