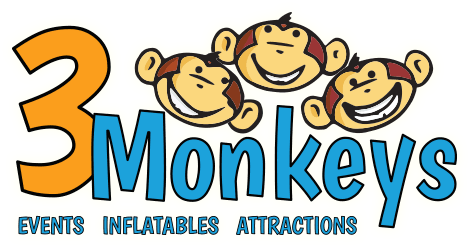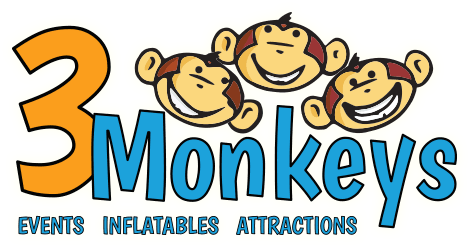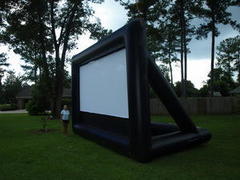 Inflatable MovieScreen
$299.00
Please call to reserve this item.
Our Jumbo 9.5' x 12' High Definition Video Screens are perfect for Movie Nights or super-sizing a video or DVD presentation. It's a great way for you to enjoy a "drive-in" style event in your indoor location. With high ceilings, we can even set up these huge screens inside a large room or gym. If you need to promote your business or train employees, these screens are larger than traditional pull-down portable screens.

Each screen rental includes the jumbo screen, a projector and sound system. DVD players, VHS players, or a gaming console can be rented as well for an an additional fee. Call the office for more information.

Actual size of screen is 6' tall by 9.5' wide.

**** PLEASE KEEP IN MIND THAT WE DO NOT DELIVER THE MOVIE SCREENS UNTIL AFTER 7 PM AS YOU CANNOT USE THE MOVIE SCREEN UNTIL IT IS DARK. THE PROJECTOR IS NOT ABLE TO BE SEEN UNLESS IT IS DARK.

IF YOU ARE REQUESTING THE MOVIE SCREEN FOR USE OUTDOORS PLEASE KEEP IN MIND THE FOLLOWING:

THE SCREENS ARE NOT ABLE TO USE IN ANY TYPE OF WIND. WE WILL NEED TO CANCEL IF THEY ARE CALLING FOR ANY WIND THAT DAY. (THEY ARE NOT MEANT TO STAND UP TO WINDS AND SINCE THEY ARE MADE OF A KITE MATERIAL THEY TEND TO BEND/COLLAPSE WHEN YOU HAVE WIND INVOLVED)

THESE ARE INDOOR USE ONLY !

THE PROJECTORS ARE FOR USED AT NIGHT ONLY. THEY ARE NOT ABLE TO BE USED DURING THE DAYTIME HOURS.

This is our small movie screen (as opposed to our xtra large movie screen) These screens are perfect for smaller get togethers and audiences. They have sound with them but they would only accomodate up to about 50 guests range.

FOR SETUP: WE TYPICALLY SETUP SCREENS AFTER 7PM IN ORDER TO BE ABLE TO SETUP THE PROJECTOR AND ENSURE THAT THE PICTURE WILL BE SHOWING FULLY ON THE SCREEN. PLEASE KEEP IN MIND YOU WON'T BE ABLE TO VIEW THE MOVIE UNTIL AFTER IT GETS DARK (WHICH IN THE SUMMER ISN'T UNTIL 8:30-9PM)

WE TYPICALLY PICK UP THE MOVIE SCREEN RENTALS THE NEXT DAY AS YOU AREN'T USING THEM UNTIL 8:30-9PM AND THEREFORE NOT DONE UNTIL AFTER OPERATING HOURS. PLEASE CHECK WITH YOUR DELIVERY SETUP DRIVER ON THE TIME WE WILL PICK THEM UP THE NEXT DAY.