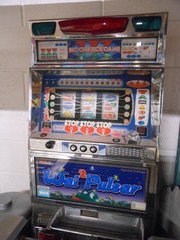 Slots
Slots Casino Game Rentals
3 Monkeys Inflatable

Rentals delivering to York, Harrisburg, Lancaster, Carlisle, Baltimore, Reading, Towson,

and more Pennsylvania & Maryland Cities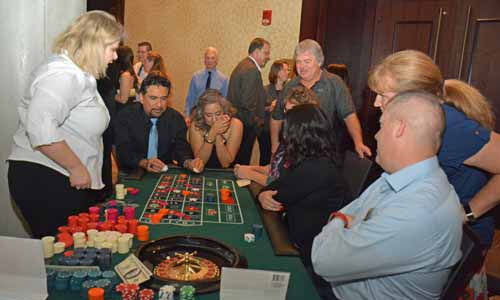 Are you feeling lucky?
Place your bets and pull the lever! You stop the reels to determine if you are a winner or not. Our slot machines are very authentic to the ones you would see in a casino. They are a little bit smaller which enables us to more easily transport them, standing 3 feet tall and 2 feet wide. We can provide an 8 foot table as well which enables the machines to sit nicely side by side and at the proper height for playing. The machine is set to randomly payout just like the real slot machines in a casino. Maybe you will be at the right place as the right time. Slot machines rent at $100 per hour.
Slot Machine Rentals
Slot Machine Rentals offer so much to either a Casino Party or just to an event rental as something low key to particpate in. Everyone from young children to older adults enjoy playing slot machines. 3 Monkeys Inflatable provides Slot Machine rental with their own unique coins that come with the machines that you can hand out and pre-dertermine how many each participant will receive or hand out paper money and have them come to a "banker" station you setup that can provide either Casino Chips or Slot Coins for use and require them to come cash them out as they are getting them back from the slots and the table games.
Casino Parties
Casino Parties are fun to do for holiday parties, corporate parties, team building events, college events, birthday parties, over the hill parties, and so much more. I mean do we really have to find an excuse to have a casino party? I know a casino party is just one of those parties that you will get a huge guest count of rsvp's because guests get so excited about casino events. It's a relaxing fun event and everyone goes away having fun whether they loose their "fake money" or not, they have a great time playing with our dealers and their friends! Add to your casino party with our rental options such as a pit boss, poker, blackjack, roulette, and craps.
Delivery Area
3 Monkeys Inflatables delivers slot machine rentals and casino parties to all of Central PA and Northern MD. Some of our service areas include Carlisle, Mechanicsburg, Harrisburg, Chambersburg, Gettysburg, Emigsville, York Haven, York Springs, Spring Grove, Shrewsbury, Glen Rock, Stewartstown, Brogue, Delta, Red Lion, York, Lancaster, Brownstown, Denver, Ephrata, Manheim, Lititz, Mohnton, West Lawn, Douglassville, Birdsboro, Pottstown, Exeter, Reading, Millerstwon, Grantville, Fredericksburg, Elizabethville, Akron, Liverpool, Bethel, Tower City, Landisburg, Tremont, Williamstown, Loysville, Wellsville, Bainbridge, Highspire, Thomsontown, Grantham, Ellitosburg, Dalmatia, Wisconisco, Gratz, Summerdale, Cornwall, Maytown, Mount Gretna, Rehresburg, Struasstown, Plainfield, Emigsville, Muir, Pillow, Rheems, Lawn, Mount Aetna, New Kingstown, Campbelltown, New Buffalo, and many more.

Questions and Answers:
Q: How can I book a Casino Event?
A: If you wish to book a casino event with 3 Monkeys Inflatable we ask that you give our office a call at 717-650-7657 or email us at info@3monkeysinflatables.com so that we can get all of the necessary details to help you book your amazing Casino Party!
Q: If I book a casino event with blackjack and poker do I need to find my own dealers?
A: Absolutely not! 3 Monkeys provides a stree free casino party by including a dealer with each casino game rental.