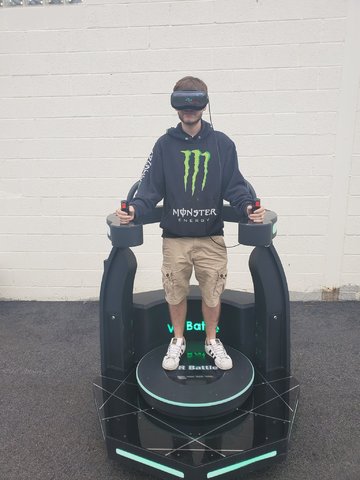 VR Battle Zone
VR Battle Zone Game Rental
3 Monkeys Party & Event Rentals deliver

ing to York, Harrisburg, Lancaster, Carlisle, Baltimore, Owings Mills, and more Pennsylvania & Maryland Cities
The VR Battle Zone offers 13 different game modes for you to choose from so you can customize what type of game experience you want to have from flying in space, zombie hunting, exploring caves, to even being a secret agent! The fun has just begun when you immerse yourself in the 4D action where you can rotate 360 degrees on the game and use the controls to become involved and part of the game.

The dynamic platform with vibration simulation, makes you feel like you are on a real battlefield. If you love adventure, it will be the virtual battlefield experience.
Ways to Rent the VR Battle
Rent both our VR Battle Zone and our VR roller coaster for the ultimate in Virtual Reality experiences. We have many other Giant Games and unique experiences that we can bring to your event. Simply email us with some details about your upcoming event and we would love to work up some ideas and quotes to send over to you. The VR Battle Zone is a one-player game and the VR roller coaster game can accommodate up to 2 players at a time.
VR Party Additional Suggestions
The VR Battle Zone is a great rental piece for your VR Party along with our other great VR items like the VR roller coaster, but on top of that we have other items that we would like to suggest for your VR party as popular pairings with our other customers. Feel free to click on their names and it will take you to the item on our website. If you have any questions at all give us a call at (717) 650-7657 or email us at info@3monkeysinflatables.com. We would be happy to help you plan for your VR Party.
Social Distance Suggestion
You can easily use this in a social distance setting as it is easy to clean in between use with a disinfectant that takes 20 seconds to clean the area. Another suggestion would be to set up a line with 6-foot reminders to keep guests' social distancing with the 6-foot rule in addition to that we use sanitary face disposable face masks on the goggles so the goggles are never touching your face without the disposable masks. Additionally, we suggest that you have an antibacterial table or stand (we rent these as well if you are interested in adding that) to ask guests to wash their hands before using the VR and afterward everything can be wiped down.