Pucker Powder Candy Art is similar to sand art, but better.....IT'S EDIBLE. Your party/event guests will have a great time creating and eating their own sweet and sour candy creations. It's just like pixie sticks but updated for the 21st century. It's sure to be the highlight of your event.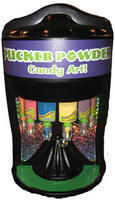 Pucker Powder Machine with additional tubing:
Rents with or without an attendent, however you are required to have someone managing it if you don't add an attendant. Additonal fee's apply per each tube ordered. (Delivery is free with any rental, however if we deliver your inflatable early and your party doesn't start until noon, then if you want it for noon you will have to pay an extra delivery charge, or you can utilize it when we come back to p/u your inflatable at the end of your party)
You need to purchase tubes for your party guests (the above pricing is for the machine only) The tubes are used so that your guests can create a sand art type of tube with overlapping colors/flavors to whatever their design choice. The tubes have lids so they can have some now, and save some for later. They come in 4 convenient sizes. The pricing is as follows per tube:

| | |
| --- | --- |
| " $2.00 | 12" $3.00 |
| 18" $4.00 | 34" $5.50 |

The machine comes with a attendant to provide assistance to your guests throughout your creative hour.
Pucker Powder Pre-made Tubes:
Our Pucker Powder Candy tubes is made up with a variety of flavors/colors. Great to have designed for your party favors...Already done for you, so no mess!
Since these are already done for your guests. There is no machine/attendant fee due to them being predesigned by our 3 Monkeys Team. Your only fee for these are the below pricing per each individual Pucker Powder Candy Tubes

| | |
| --- | --- |
| 6" $2.00 | 12" $3.00 |
| 18" $4.00 | 34" $5.50 |

These are great for your next party or event. Give them away as a party favor. For a party of 20 guests, it will cost you $40.00 to add 20 6 ounce tubes. This is sure to add a great closing to a great party!
Copyright © . 3 Monkeys Inflatables LLC. All rights reserved. Red Lion PA (717) 650-7657