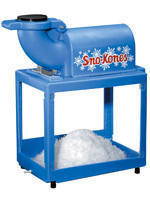 Sno Cone Machine and Supplies
Sno Cone Machine and Supplies Rental York Pennsylvania Area
3 Monkeys Inflatables is your Sno Cone Machine and Supplies Rental Specialist in Harrisburg, Dauphin, Lancaster, Hershey, Hanover, Dallastown and Spring Grove Area.
What's included
This is for the Sno-Cone Machine, 50-paper cones, and 3-16 oz of Snow Cone Syrup (varied flavor packs), disposable serving spoon, and plastic glove. This will serve 50 guests. For additional quantities please see our add on packages. For an order
without an inflatable rental
please email or call or office. The cost is higher for those not renting an inflatable, as we have the concessions for our inflatable customer's convenience.
Ease to use
This machine is super easy to work, and can be used for private parties, birthdays, church events, etc... it is as simple as adding your ice to the shoot on top and pulling the lever (arm) down while pushing a crush button. We do caution that even though this machine is so simple to use we do not recommend anyone impaired or under 18 to use the machine for safety reasons it is best that this be operated by an adult who is able to follow the directions and operate it according to the directions on the unit.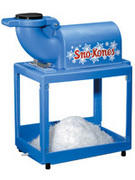 Snow Cone Ice Chart
Here is a Sno Cone Serving Chart to help you figure out how much ice you may want to have.
For this machine you can use any bagged ice that you can get at either a Grocery Store or Gas Station.
Power:
You will need approx. a 7 amp dedicated outlet for this Snow Cone Machine.
We can run one 50 ft extension cord on this item IF needed. Keep in mind that we do not return any concession supplies due to food safety guidelines.
91