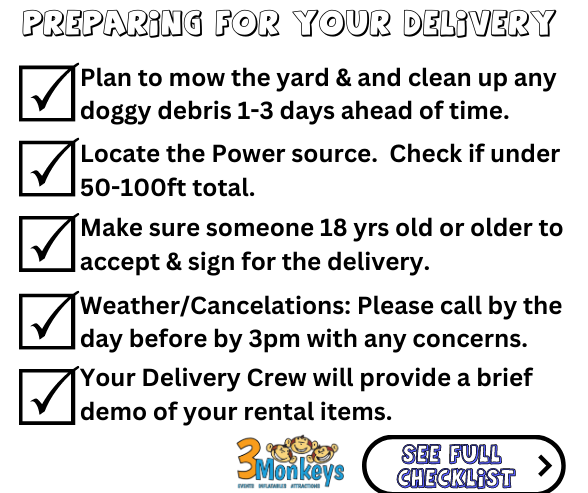 3 Monkeys Inflatables offers a free checklist of tips and tricks to ensure you have a smooth and happy setup. Here is the top 5 tips that will help you navigate if you are a first-renter, or just need a refresher on tips to make a smooth setup.

Our first tip is simple. Plan to mow the yard, and clean up doggy debris, branches, and toys that will be in the path to get to the location of your choice for the inflatable & event rental items. Keep in mind to look up and around and ensure there are no barriers to your chosen spot like low-lighting limbs, or power lines (as we cannot set up too closely under power lines) so keep in mind that looking up and around the spot is perfectly suited for you. Once my guys set up the inflatables we, unfortunately, cannot move them again as they are extremely heavy, and time-consuming for our guys and they have a schedule to keep up with.

The second tip is to locate your power ahead of time and measure to make sure it fits the extension cord you requested (You can choose between a 50ft extension or 100ft extension at no additional cost to you, however if your area reaches further than 100ft you cannot add your own cord. At that point, you would want to have a generator on site before we arrive to plug into making sure it can handle the amps load of the particular inflatable you chose. If you don't have a generator handy then you can call our office at least 3 days prior to your event to request a generator be added to your order. We do offer them for rent, in 3 different sizes.

If you have a Water inflatable, please also make a note to do the same checking on your garden hose to ensure it reaches to the area you are setting the water slide to. The hose within the water slides vary greatly so we can not ensure how long the water slide hose will be coming off of the slide, but you must plan to have your water hose reach the complete area, so you are covered regardless of the hose length. We also rent an additional 100ft water hoses, should you need to rent 1 or 2, please get in touch with our office a minimum of 3 days prior to ensure we are able to order this to your existing order.

Please be sure to have someone over the age of 18 accept and sign for the delivery. They will also be responsible for directing the location of where we set up and place the party rental items. Please be sure to communicate to whoever is on-site for this as we cannot move the items after they are setup.

Weather/Cancelations concerns should contact our office at any point leading up to their rental, but if you are looking at canceling or rescheduling a rental it does need to be done by the latest the day before the rental by 3 pm. We do follow our cancelation and weather policy as posted on the FAQ section of our website, and our deposits as explained and outlined on our website are non-refundable.

Your Delivery Crew will provide to you with a brief demo of your rental items, along with our Operations Instructions, Rules, and Guidelines sheet for you and any other attendants monitoring the inflatable rentals, as well as leaving you with a copy for yourselves on site. Keep in mind we do have an emergency phone system should you need us during your rental, simply call the 3 Monkeys Inflatables phone number and choose option 1 to be directed to leave a message for the emergency supervisor. We will contact you back immediately, and ask that you stop using any equipment that you called about until you speak with the emergency supervisor.

WE DELIVER!
3 Monkeys Inflatables is proud to offer delivery from our shop at 287 Main Street Felton, PA 17322 to your location for a nominal delivery fee. You can view this cost simply by calling us or by placing an order and our system auto-populates the delivery charges

NOTE: Extra fees may vary depending on how far you are outside our service area.