About us - 3 Monkeys Inflatables
At 3 Monkeys Inflatables our belief is not only treating our staff like family, but our customers like family as well. We have been in business for almost 2 decades bringing smiles and laughter all across Pennsylvania and Maryland event venues and locations. We treat every opportunity with the greatest of care whether it's booking our customers over the phone, or in person, corresponding by email or text, or out at events. Regardless of the contact we look to create those memorable experiences not just for our customers, but our support staff as well. We start at the top and work alongside our team to not only educate them on safety & customer service standards but also work with them to develop their skills and bring out the very best in our team. We have parties for our team on the off-season, as well as take them on trips, provide them with drinks/snacks, and even full meals, and at times sunscreen and family support. After all, they are part of our extended family.
We have the Best Event Staff in Central PA
Experience You Can Trust
Our employees care about your events as much as you do. We go above and beyond other party and event rental companies to ensure you have the best experience possible. Our reviews show that we not only outmatch other companies but that our guys are friendly, reliable, and professional. Some of the review comments still blow us away like: "The rental process was flawless" , "highly recommend 3 Monkeys", "So professionally done!" and many more that you can check out on Google with a list of hundreds of reviews.
Reliability Guaranteed
We guarantee the reliability of our services – from setup to breakdown, we make sure your events go off without a hitch. With 3 Monkeys Inflatables, you can rest assured knowing that your event will be taken care of with precision and excellence.
Unmatched Quality
Our commitment to quality is unmatched in the industry. We offer only the best equipment, so you can trust that your event will be a success! Our team is always available to answer any questions or address any concerns you may have throughout the process.
Reviews That Speak for Themselves
Don't just take our word for it - read our reviews! Our customers love us because we go above and beyond other party rental companies to ensure you have the best event possible.
Meet our amazing team at 3 Monkeys Inflatables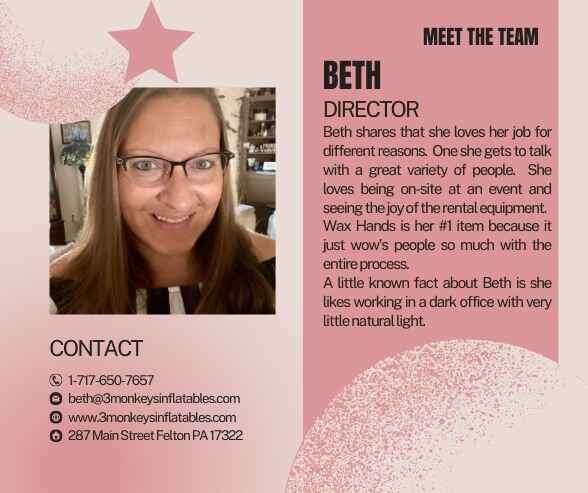 Beth
Beth has been with 3 Monkeys for years and has the commitment and dedication to excellence for our customers, in fact, she is our Large Event Specialist and often is the woman behind the voice on the phone!
Beth's Favorite Pick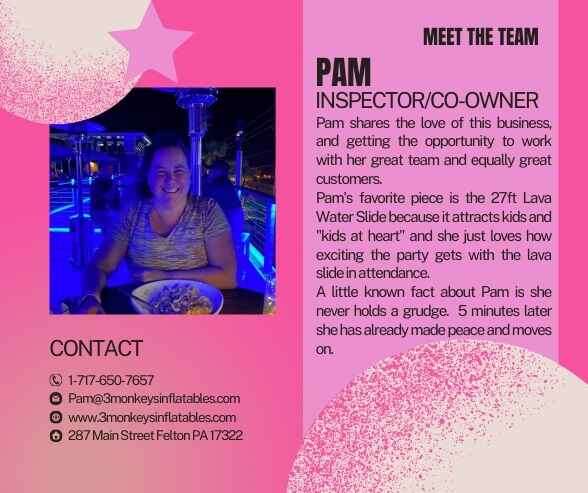 Pam
Pam enjoys taking care of the staff, and ensuring they are happy and well-fed. Pam is typically on any of our large events, and helps to book and provide a special level of care to our big event clients.
Pam's Favorite Pick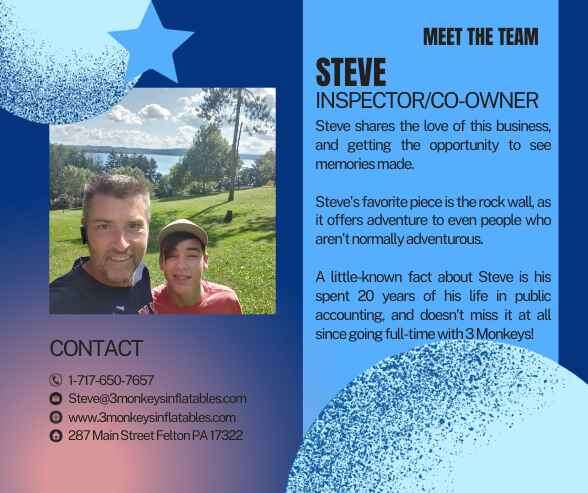 Steve
Steve provides maintenance, training, & care to create schedules based on our customers' needs, in addition to making sure all of our equipment is safe including our trucks and trailers for our staff and customers.
Steve's Favorite Pick
About our Amazing Team!

3 Monkeys Inflatables began 13 years ago by Pam & Steve that wanted to create a fun, safe, and customer-friendly environment for our customers to enjoy their community, birthday, and corporate events just like we do with our own boys. Creating amazing experiences means more than just having great equipment to3 Monkeys it means better training with our staff

Are you tired of hearing from businesses you work with that they won't reward you for your loyalty, but yet they turn around and reward first-time customers with all types of special offers and gifts just to get them as a customer while you are paying more for being loyal? We frequently email our current, loyal customers with last-minute deals, specials on our Facebook page, and first offerings on new equipment.

3 Monkeys Inflatables is dedicated to providing entertainment for our local families, schools, church communities, community events, as well as social organizations. Pennsylvania and Maryland both have registrations and amusement ride inspections and licensing and we comply with both states and some other surrounding states to be in compliance with all laws and regulations as safety is always a top priority for us. We also have 3 ride inspectors on staff. We have a 24/7 reservation listing that allows for you to book any time of day, 365 days a week, and of course, on top of that, we are highly responsive on text, phones, and email to ensure we continue to provide our customers with the #1 customer service they have grown accustomed to when they think of 3 Monkeys Inflatables.
3 Monkeys Inflatables
287 Main Street
Felton, PA 17322
717-650-7657 | 410-581-5867
email: info@3monkeysinflatables.com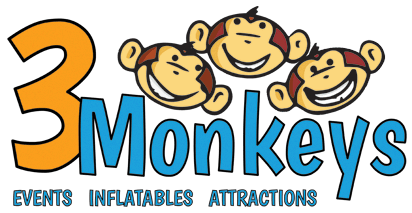 Give us a call, Email us, Facebook Message Us, Check Us out on Twitter, Instagram, LinkedIn, and Pinterest!
The history of 3 Monkeys Inflatables

Pam and Steve started the bounce house rental business in 2007 after searching for water slides for their middle son's birthday. After experiencing a less than desirable water slide rental in York with a local company they thought they could offer a better water slide experience with a better quality inflatable manufacture, better customer service experience, as well as cleaner well-kept equipment.

The business was born at that point and named 3 Monkeys Inflatables because Pam & Steve had 3 boys they often called their little monkeys and so it just made sense when they came up with pairing the name 3 Monkeys with Inflatables. After the name was born they got to work fast on figuring out what they would start with in regards to picking their inflatable rentals. The first items that were ordered were a 18ft single lane water slide rental, our 20x19 Obstacle course that years later was fondly re-named by our crew the beast obstacle course which still to this day is very popular and consequently is the 3rd "beast" we have in the 13 years. The last unit is the York Bounce House which unbelievably is our first and only York bounce we have had since day one still in amazing shape with no seams or repair issues.

The 2nd year we were in business we added a few new pieces to the inventory, and every year from thereafter we continued to add new items year after year to surprise our customers on what new cutting edge cool item in inflatable & party rentals we could find.
Our awesome team
We are the premier event and party rental company in Pennsylvania and Maryland. Our staff is dedicated to providing you with the best service and quality for all your party and event needs.