Virtual Reality
Virtual Reality Rentals York, Pennsylvania
Pennsylvania and Maryland Virtual Reality Specialist
3 Monkeys Inflatables offers a huge selection of VR Reality rentals from sit-down on the Virtual Reality Roller Coaster to stand options with the Virtual Reality Batlle Zone. Our delivery area is pretty huge as we deliver to York, Lancaster, Harrisburg, Reading, Baltimore, Hershey, and all of Central PA and Northern Maryland areas. We have the most unique virtual reality selection in the area from our VR roller coaster experience offering over 28 different roller-coaster experiences. We have shared these VR units with not only our customers but our employees and have had a ton of fun playing with them. We know you will enjoy them too!
Virtual Reality Rental Information
To rent a Virtual Reality rental with 3 Monkeys Inflatables, simply pick the Virtual Reality experience you are interested in renting by adding to your cart (Don't forget about the bounce houses, tents, tables, chairs, concessions, and game rentals we have to add to your cart) and then simply add your booking details like your address, email, and phone number and complete the order with just a 25% deposit now with the remainder not being due until the day of your event. It's simple and easy! We have been been in business since 2013 so your order helps our small family business continue to thrive. Thank you! Call or email us with any questions.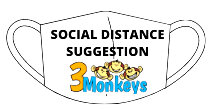 Virtual Reality Social Distance Suggestion Suggestion Tip: 3 Monkeys Inflatables offers cleaned and sanitized virtual reality rentals at the time of setup. The great news is that Virtual Reality rentals offer a perfect social distance solution because the VR battle zone is just one participant at a time and can be wiped down fast and easily in between users and we use a face mask on each participant. The VR reality coaster is a 2-player option and we would suggest only offering 2 players to family members in the same house, or operating as a single-player option. The coaster is also a fast and easy wipe-down in between each player.
3 Monkeys Inflatables also offers a germ buster attendant for your entire event offering more peace of mind and spot cleaning. Create an event with signage and information with our 3 Monkeys teams' help to create a socially distanced great event! :)
Virtual Reality is a created simulated environment by using computer technology that makes you feel like your part of the action. Most people will relate virtual reality with the head-mounted display like the oculus rift, PlayStation VR, and htc vive. Unlike traditional user interfaces, VR places the user inside an experience. Instead of viewing a screen in front of you, users are immersed and able to interact with the 3D world.

Roller Coaster VR

Our VR Roller Coaster Experience offers more than 28+ scenarios, (and growing) along with a vibration system and sounds. The software and hardware developed for this coaster allow it to have a synchronized system of vibration, and ventilation with the scenario of the ride you chose. You will actually feel like we're in a real roaster coaster at speeds on some of the rides of up to 120km/h. This unique experience is something that we have found adds a lot of excitement to any event.


What type of VR do you have available to rent?

Currently, we offer Virtual Reality Roller Coaster Experiences and Virtual Reality Battle Zone Simulators. We continue to look at the market and find amazing quality VR equipment to bring into our rental fleet. We continue to bring amazing Virtual Reality opportunities to you by continuing to find innovative and exciting opportunities for you to share in this amazing and fun experience. 3 Monkeys Inflatables is the leader in Central Pennsylvania and Northern Maryland is providing Entertainment fun with creative experiences and providing a one-stop-shop experience.

Trust the best

3 Monkeys Inflatables is a family-owned and operated company in York, Pennsylvania. Our Virtual Reality rentals are some of the best VR experiences across the country. We have tested and ensured that our customers get the best experience with the VR products we add to our line and train our staff with amazing detail and support to ensure your event is the best event ever.