York Party Rentals - Elevate your event with 3 Monkeys Inflatables
Experience Hassle-Free Party Planing with York Party Rentals
Welcome to 3 Monkeys Inflatables, your premier destination for top-tier party rentals in York. From classic tables & chairs to thrilling interactive inflatables, we've got everything you need to make your event unforgettable. Dive into our extensive collection and discover how we can transform your party into an epic celebration! We offer a massive selection of rental items that are sure to make your event a total blast. From table and chair rentals to giant game rentals, dry slide rentals, rock climbing wall rentals, trackless train rentals, mini golf - portable rentals, zip line rentals, catering, axe throwing rentals, escape room rentals, and even bumper car rentals - we've got it all! Take a look around and check out our entire party rental one-stop-shop inventory or give us a call and we can help build you the perfect party or event!
And the best part? We've got rental options to fit any event and budget. Whether you're hosting a chill backyard BBQ or a massive corporate shindig, we've got the perfect rental items to suit your needs. So, what are you waiting for? Give us a holler and let's get this party started! With our high-quality rentals and top-notch customer service, you can rest easy knowing that your event is in good hands. Let's make it one to remember!
York County is an ideal place to host parties and events due to the wide range of available venues. From open spaces for home parties to great parks nearby, schools, colleges, festivals, and local event locations, York County has something for everyone.
At 3 Monkeys Inflatables, we offer water slide rentals that are perfect for any location in York County, whether you're in the 17404, 17401, 17402, 17403, 17356, or any other zip code in the area. Our water slides are suitable for all types of events, whether it's a backyard party or a large corporate event.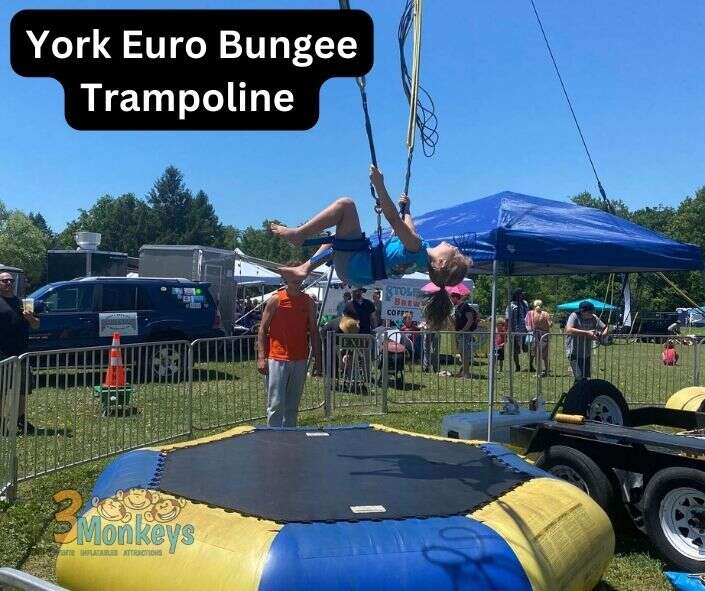 York Euro Bungee Trampoline
York Bungee Trampoline Rentals are great to rent alone or in a package with a rock climbing wall. We have the 2 euro bungee jumping trampolines and the 4 bungee jumping trampolines available.

Rent the Bungee Trampoline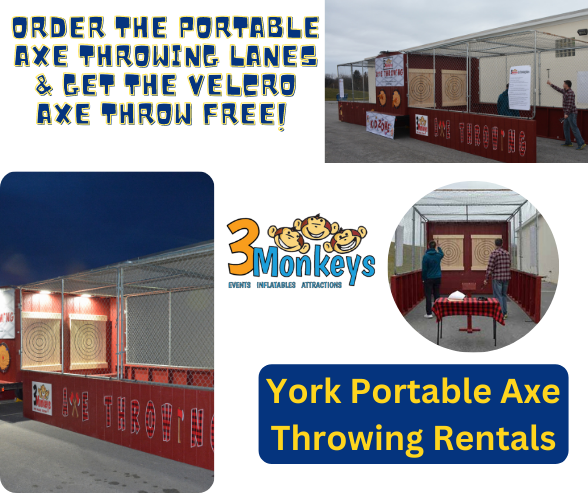 York Axe Throwing Rentals
The 2 and 4 Lane Trailer Axe Throwing Lanes available in York Pennsylvania are perfect for restaurant open houses, corporate events, men's and women's outings, police station outings, corporate team building, and much more.
Rent the Axe Throwing in York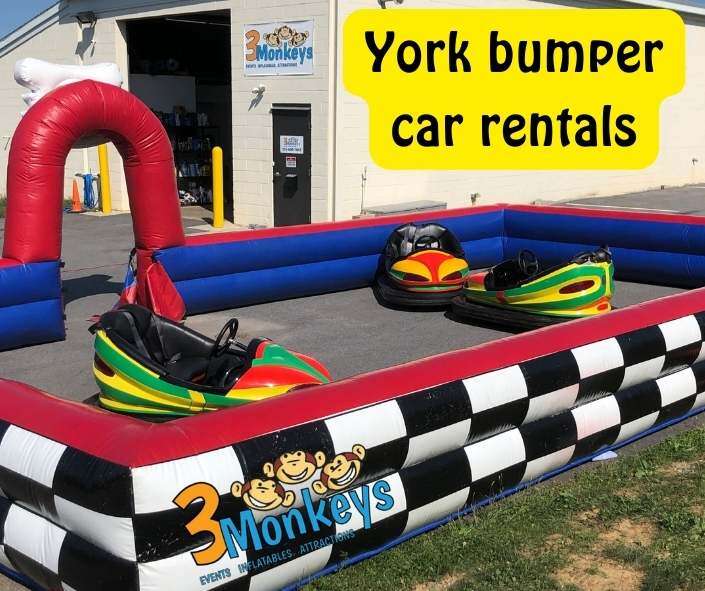 York Bumper Car Rentals
Bumper Cars in York Pennsylvania are a popular interactive rental for kids of varied ages and adults for both private birthday parties and large corporate events.




Rent the bumper car rentals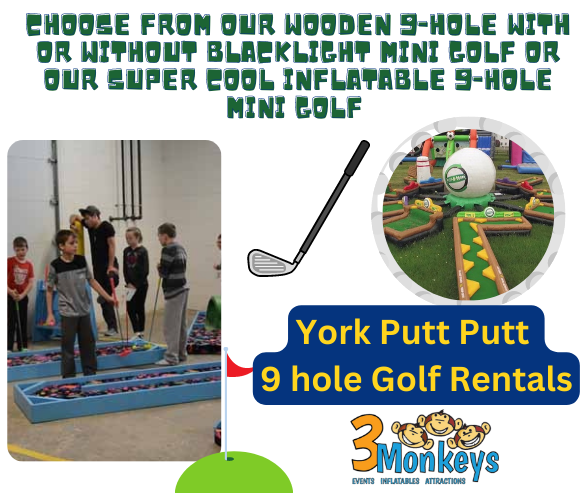 York Portable Mini Golf
3 Monkeys Inflatables is excited to offer you two ways to play 9-hole putt-putt or mini golf at your location - whether that is in your backyard, or your event location 9 hole mini golf is perfect in our portable wooden mini golf or 9-hole inflatable mini golf courses for your to choose from. Both of the mini golf rentals come with putters, balls, and scorecards!
9-hole Portable Mini Golf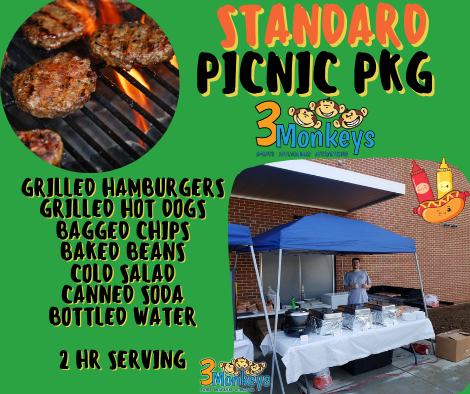 York Catering Events
York Catering Events offers everything from hot dogs, hamburgers, cheeseburgers, cold salads, drinks, and more.

The Picnic Foods are great for your backyard parties, grad parties, corporate events, and even college events where you want to serve fresh made food, without having to be the one doing the cooking!
Check out our Picnic Package!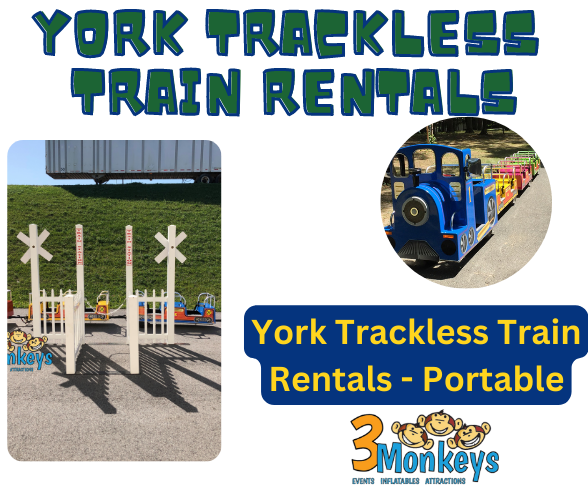 York Trackless Train Rentals
The York Trackless Train Rentals are perfect for your York PA birthday parties, preschool & camp events, corporate events, grand openings, holiday parties, and more. The train can operate on both grass or asphalt and can operate for up to 3-4 hours depending on the surface setup.
Portable Trackless Train Rentals
Why choose 3 Monkeys Inflatables for your Party Rentals in York, PA?
Unmatched Variety
- Our inventory is brimming with diverse ranges of party essentials and entertainment options. Whether you're looking for Catering, Casino Parties, Zorb hampster balls, Axe Throwing Rentals, Giant Games, Table and chair Rentals, Bounce House Rentals, Obstacle Course Rentals, Ziplines, Water Slides, Rock Walls, Tents, Dry Slides, Foam Parties, Photo Booths, Make and Takes, Carnival Games, Mechanical Bulls, Extreme Interactives like our popular Big Red Baller, or Joust or even adrenaline-pumping Bumper Cars, we've got it all. And that's just the tip of the iceberg!
Safety First - At 3 Monkeys Inflatables, we prioritize your safety. All our equipment undergoes rigorous safety checks and regular maintenance to ensure a secure and fun experience for all. Our Distracted Driving and Escape Rooms are not only entertaining but also designed with the highest safety standards in mind.
Trusted by York Residents - With years of experience serving the York community, we've built a reputation for reliability, professionalism, and unparalleled customer service. But don't just take our word for it - check out our glowing testimonials from satisfied customers!
York Party Rental Options
York Party Rentals offer a huge selection of the largest Central PA selection of party rentals. Regardless of what you need to complete your party, we are able to help! 3 Monkeys Inflatables is proud to rent bounce house rentals, water slides rentals in York, Toddler Inflatable rentals in York, York's Teen Inflatable Rentals, York Adult Bounce House Parties, Dunk Tanks, Trackless Train Rentals, Mechanical Bull Rentals, Inflatable Games, Concessions, Lawn Games, Carnival Games, Giant Games, Inflatable Obstacle Course Rentals in York, Photo Booths, Inflatable Movie Screens, Table & Chair Rentals, Axe Throwing Lane Rentals, Zip-Line Rentals, Mobile Escape Rooms, Mobile Axe Throwing, Mobile Rock Walls & Euro Bungee Trampoline Rentals, Virtual Reality Roller Coasters, Bumpers Cars, Mini Golf Courses and so much more. We even have Tent & Catering Rentals! No matter what age you are trying to accommodate 3 Monkeys Inflatables has you covered!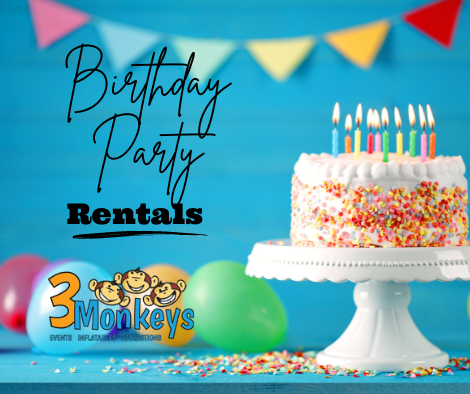 Birthday Party Rentals in York
We rent everything you need for birthday parties near me. If you are looking for York birthday party rentals, we can help! 3 Monkeys Inflatables provides everything you need for the best birthday party rental ever! We provide the typical bounce house rentals, jumpy houses in all types of colors and different themes, as well as offering bounce and slide combos that pair bounce houses with slides and typically have a basketball net inside as well. We rent obstacle course rentals in York, as well as have a huge selection of water slide rentals in York, extreme inflatable rides, giant games, carnival games, trackless train rentals, tents, table & chair rentals, mechanical bull rentals, bumper car rentals, wax hands, and so much more. Our inflatable bounce house rentals are very popular for backyard birthday parties, followed by obstacle course rentals, and water slide rentals for summer birthday parties.
York Birthday Party Rentals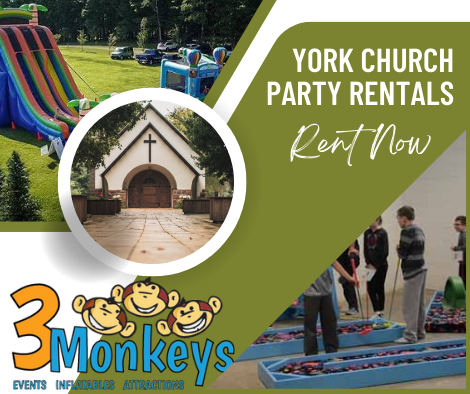 York Church Party Rentals
We rent Party Rentals to Youth and children's ministry groups throughout York PA. We rent inflatables, games, and interactives that will have the best in party entertainment for your group that will allow you to create amazing church events like empowerment events like overcoming obstacles with our many different obstacle course rentals, rock walls, mechanical bull rentals, axe throwing, escape room rentals, and more we can create an array of inflatable obstacles that your members can overcome for an action-packed party rental. Give us the theme you are working with and we can create a non-stop action-packed party event that will blow your participants away and keep them coming back to every event you are doing!
Church Party Rentals York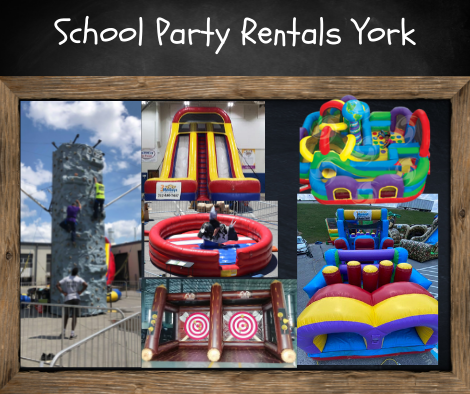 York School Party Rentals
School Party Rentals in York are made super easy with all of the packages we offer and our experience of over 12 years putting on the best school events in York county. No matter can do school events like 3 Monkeys Inflatables as we offer the biggest inventory around to get all categories covered for your school event rentals, whether you are hosting elementary, middle, high school, day school, or mixed ages for a carnival, mayday, fun day, or whatever you want...we can create packages, work with specific budgets, and make the most splash for your money. Give us a call so we can help make you the star of your next school event.
School Party Rentals near me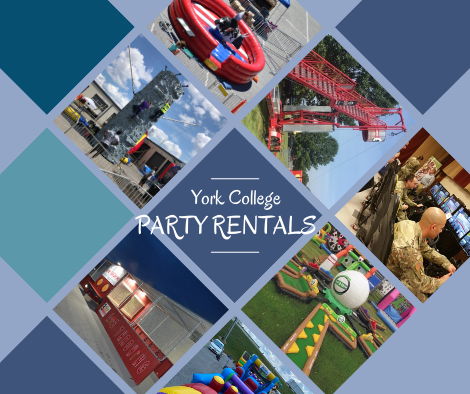 York College Party Rentals
Being the leaders for school party events, it's not much of a switch for us when we are working with colleges. We have strong relationships with York's area colleges and beyond. This is because our inventory is so strong forward for college activities. We have some large fun interactive items like a mechanical bull, zip-lines, rock wall, euro bungee trampolines, axe throwing mobile lanes, mini-golf, bumper cars, escape room rentals, and so much more. We also have catering, giant games, tents, and table & chair rentals that add a lot to the events.
College Party Rentals in York