Best Party Rentals in York
York Party Rentals are from 3 Monkeys Inflatables are the best in York PA. We offer easy online party rental bookings. We offer up to 8 hours of York party rental for one low price. The best part is you can add to your 8-hour rental and make it overnight for just $50 more! We pride ourselves on training and developing safety protocols that our York customers can't not only count on but trust us knowing we are the experts.

Reserving your rental with 3 Monkeys is so easy! You can reserve online with our 24/7 booking system that keeps track of current rentals and only shows you what's available on the dates you are putting into our online calendar, or you can simply give our friendly staff a call at (717) 650-7657 or email us at info@3monkeysinflatables.com If you are on your mobile phone you can even hit the text function and reach out to us that way too.

We are always looking for ways to create amazing experiences with our customers. Don't forget to contact us about our Tents, Tables, Chairs, Concession Rentals, and many other item rentals. York Party Rentals are delivered all throughout York County PA in zipcodes 17019, 17302, 17309, 17311, 17312, 17313, 17314, 17315, 17317, 17318, 17319, 17321, 17322, 17323, 17327, 17329, 17331, 17339, 17342, 17345, 17347, 17349, 17352, 17354, 17355, 17356, 17358, 17360, 17361, 17362, 17363, 17364, 17365, 17366, 17368, 17370, 17371, 17401, 17402, 17403, 17404, 17405, 17406, 17407, and many more.
Check out our huge selection of York Party Rentals to choose from. This is just the start of the awesome party rentals we have to offer. From Inflatable Bouncing Houses to Inflatable Dry and Water Slides, Obstacle Courses in all different lengths and sizes, Giant Game Rentals, Carnival Game Rentals, Toddler Inflatables, Tents, Table & Chair Rentals, Rock Climbing Wall rentals, Euro Trampoline Bungee Rentals, Extreme Interactives like our popular Big Red Baller, Bungee Runs, Velcro Walls, and so much more. The action never ends with 3 Monkeys Inflatables as York's Leader in Entertainment and Party Rentals!
York Party Rental Options
York Party Rentals offer a huge selection of the largest Central PA selection of party rentals. Regardless of what you need to complete your party we are able to help! 3 Monkeys Inflatables is proud to rent bounce house rentals, water slides rentals in York, Toddler Inflatable rentals in York, York's Teen Inflatable Rentals, York Adult Bounce House Parties, Dunk Tanks, Trackless Train Rentals, Mechanical Bull Rentals, Inflatable Games, Concessions, Lawn Games, Carnival Games, Giant Games, Inflatable Obstacle Course Rentals in York, Photo Booths, Inflatable Movie Screens, Table & Chair Rentals, Axe Throwing Lane Rentals, Zip-Line Rentals, Mobile Escape Rooms, Mobile Axe Throwing, Mobile Rock Walls & Euro Bungee Trampoline Rentals, Virtual Reality Roller Coasters, Bumpers Cars, Mini Golf Courses and so much more. We even have Tent & Catering Rentals! No matter what age you are trying to accommodate 3 Monkeys Inflatables has you covered!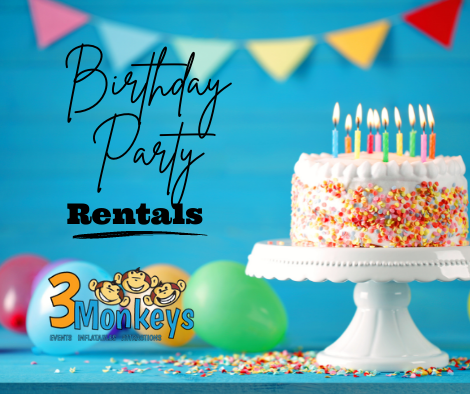 Birthday Party Rentals in York
We rent everything you need for birthday parties near me. If you are looking for York birthday party rentals, we can help! 3 Monkeys Inflatables provides everything you need for the best birthday party rental ever! We provide the typical bounce house rentals, jumpy houses in all types of colors and different themes, as well as offering bounce and slide combos that pair bounce houses with slides and typically have a basketball net inside as well. We rent obstacle course rentals in York, as well as have a huge selection of water slide rentals in York, extreme inflatable rides, giant games, carnival games, trackless train rentals, tents, table & chair rentals, mechanical bull rentals, bumper car rentals, wax hands, and so much more. Our inflatable bounce house rentals are very popular for backyard birthday parties, followed by obstacle course rentals, and water slide rentals for summer birthday parties.
York Birthday Party Rentals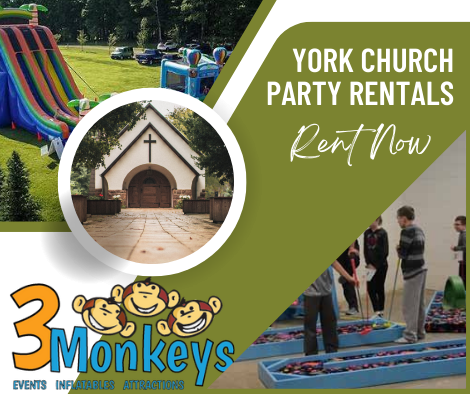 York Church Party Rentals
We rent Party Rentals to Youth and children's ministry groups throughout York PA. We rent inflatables, games, and interactives that will have the best in party entertainment for your group that will allow you to create amazing church events like empowerment events like overcoming obstacles with our many different obstacle course rentals, rock walls, mechanical bull rentals, axe throwing, escape room rentals, and more we can create an array of inflatable obstacles that your members can overcome for an action-packed party rental. Give us the theme you are working with and we can create a non-stop action-packed party event that will blow your participants away and keep them coming back to every event you are doing!
Church Party Rentals York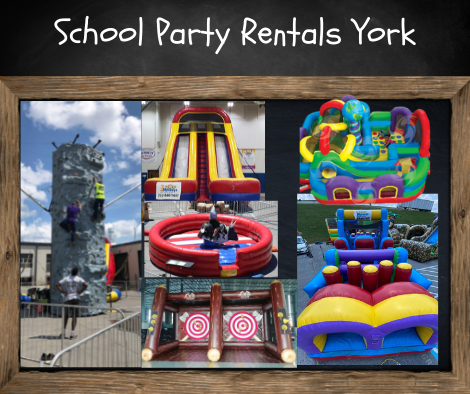 York School Party Rentals
School Party Rentals in York are made super easy with all of the packages we offer and our experience of over 12 years putting on the best school events in York county. No matter can do school events like 3 Monkeys Inflatables as we offer the biggest inventory around to get all categories covered for your school event rentals, whether you are hosting elementary, middle, high school, day school, or mixed ages for a carnival, mayday, fun day, or whatever you want...we can create packages, work with specific budgets, and make the most splash for your money. Give us a call so we can help make you the star of your next school event.
School Party Rentals near me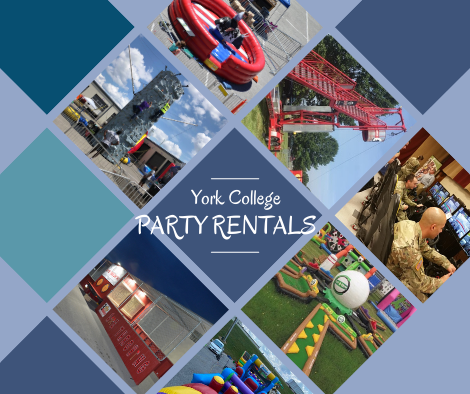 York College Party Rentals
Being the leaders for school party events, it's not much of a switch for us when we are working with colleges. We have strong relationships with York's area colleges and beyond. This is because our inventory is so strong forward for college activities. We have some large fun interactive items like a mechanical bull, zip-lines, rock wall, euro bungee trampolines, axe throwing mobile lanes, mini-golf, bumper cars, escape room rentals, and so much more. We also have catering, giant games, tents, and table & chair rentals that add a lot to the events.
College Party Rentals in York