20x20 Pole Tent - Asphalt setup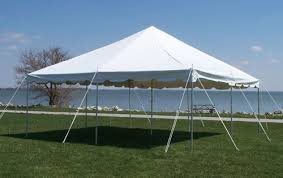 Description
20x20 Pole Tent- Asphalt

Best 20x20 Asphalt Tent Rentals
3 Monkeys is proud to offer a 20x20 Asphalt Tent Rental as part of our Tent services in Central Pennsylvania and the Northern Maryland area. Our Pole tents are constructed with steel poles, steel stakes & nylon ropes. The poles are made from galvanized steel. They are sturdy and safe to have for your party and event rentals set up professionally by 3 Monkeys Inflatables staff.
The 20x20 Party tents set up on asphalt are featured in a white 14 oz translucent canvas that will accommodate up to 60 people for a sit-down meal. A standard event planner would suggest that you plan for seating guests with a 10-foot per person accommodation for table and chair space to be comfortable.
Our asphalt tent rentals are drilled into the asphalt (no concrete allowed) and then the tent poles are put into place. We will if requested bring asphalt repair kits and patch the holes when removing the stakes if you wish, however, there is an additional charge and it has to be arranged at least one week prior to the booking. The asphalt tent poles add way more secure holding power than those that use water buckets, and/or sand blocks that can become an added projectile in winds or tripping hazards to customers entering and exiting the tent. Keep in mind that we will not set up a tent if there are projected high winds, and or tornado conditions.
SETUP:
We set up tents typically 1-3 days prior to the event time. If you have specific timing that you would need the tent setup please keep in mind that all tent setups are done Thursdays and Fridays typically but at least 1-3 days prior and are left overnight typically and picked up the next day (typically Monday or Tuesday). Keep in mind the tents typically take 3-4 hours of setup time. However as everything goes this is a one-day rental, so please do not count on setup and pickup early/late as it is only if it fits into our schedule that it may be set up before or after the day of your event. If you need to ensure that you have it set up early and picked up later another day then you would have to pay an additional day rental per extra day. You can pay an additional $40 per item overnight fee to keep it till the next morning as another alternative.

When we set up tents on asphalt --- We will drive Steel Tent Stakes into the ground to secure them on asphalt.

For asphalt setup questions, please call our office.

(We are not responsible for holes/repair of your grass/asphalt setup.)

Any questions please email us directly.

Thank you.
shoptagr:installedshoptagr:installed