30' Obstacle Course (#98) 30Lx 11W x 7H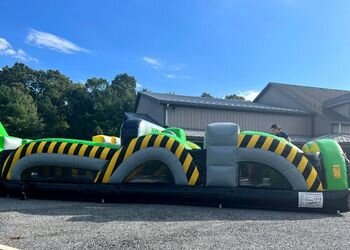 Description
Rent a 30' Obstacle Course for Your Next Event
Challenge Your Guests with Our Exciting 30-Foot Obstacle Course Rental
Features of the 30' Obstacle Course
If you are going to rent a 30' obstacle course for your next event you probably want to know a little bit about it. Our 30-foot obstacle course rental is the perfect addition to any event, providing endless fun for up to two participants at a time. Whether you want to host a friendly race or let your guests tackle the obstacles at their own pace, this inflatable obstacle course is sure to entertain. As participants enter the obstacle course, they will weave their way through pop-ups and squeeze their way through log roll-type obstacles. Next up is the challenging task of tackling a large pop-up with additional pop-ups coming off the sides. Finally, racers will crawl through tunnels to reach the end of the course and exit the inflatable. This obstacle course is designed to test the agility and endurance of its participants, while also providing a fun and competitive atmosphere. So, get ready to race, climb, crawl, and jump your way to the finish line with our exciting 30-foot obstacle course rental!
The Full Radical Run Obstacle Course
This 30' obstacle is just one of three pieces that make up the 105' Radical Run Explosion Obstacle Course. You can pair this obstacle course with the 35' race obstacle to make a 65' obstacle, the 30' rock climb slide to make a 60' obstacle, or all three pieces can be rented together to make a giant obstacle course that is 105' of exhilarating, race fun!
How to Place a Rental for the 30' Obstacle Course Online:
Click the "Add to Cart" button on the item page.

Choose your Event Date, Start Time, and End Time

Enter the zip code of the delivery address and the corresponding city from the drop-down menu before you proceed to the next page in the checkout process.

Enter your name, email address, mobile number, and billing address, then proceed to the next page in the checkout process.

On the next page, you will answer questions about your rental and its setup and you will enter the delivery address. Proceed to the final page of the checkout process.

On the last page, you will be asked to enter your credit card information and choose whether you would like to pay the 25%, non-refundable deposit or the full balance. If you choose to pay just the deposit the rest of the balance is due any time up until the time of delivery.
Frequently Asked Questions and Answers About Obstacle Course Rentals with 3 Monkeys Inflatables
Question: Do you deliver and set up? And when will it be delivered?
Answer: Yes, we deliver and set up the inflatable obstacle course rental either the day of or possibly the day before your party. You will receive an email or a phone call from our office staff a few days prior to your event letting you know when you are scheduled for both setup and pick up of the rental equipment.
Question: Can we pick up the inflatable ourselves and set it up?
Answer: No, at this time we do not offer customer pick-up on our inflatables. Due to state safety regulations, we do our own setups to ensure everything is done according to state safety procedures. We do however offer customer pickup on items such as concession rentals, game rentals, tables, and chairs.
Question: Do I need to provide a power cord?
Answer: No, as a matter of fact, we only use our own cords because we know they pull the correct amount of power for our blowers. We like to have power available within 50' but we can run power up to 100'. If there is not enough power within 100' you will need to provide your own generator rental or you will need to add one to your rental order.
Question: What happens if it rains? Can I cancel and get my money back?
Answer: We do not make any changes for weather until we can see the 24-hour hourlies for your area. If we see a 60% chance of precipitation or higher for at least 50% of your rental period we will work with you to move your rental to a different date.