5 in 1 Castle Combo
20L x15.6W x 14.6H | 6.9 amps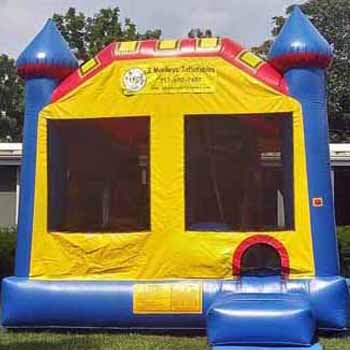 Setup Area: 28x26
Actual Size: 18x16
Outlets: 1
Age Group: 1-99
Description
5 in 1 Castle Bounce House Combo Rental
3 Monkeys Inflatable

Rentals delivering to York, Harrisburg, Lancaster, Baltimore, Reading, and more Pennsylvania & Maryland Cities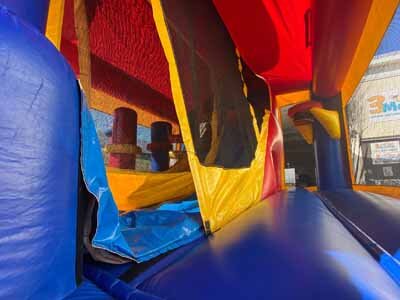 For Kings and Queens of All Ages! Want to attract royalty? This 5 in1 Castle Bounce House Combo rental jumper has a grand air of majesty & adds imagination to any event or party. The combo unit serves up a five-challenge inflatable combo bounce house of entertainment! A jump area with a basketball hoop and obstacles are central attractions, while continuous movers can climb and slide for hours on end. This versatile inflatable jumper combo is ideal for backyard parties, recreational events, or any outdoor party or event!
What is inside the 5 in 1 Castle Combo Rental?
The 5 in 1 Castle Combo Bouncers is a unique combo that is more like all divided spaces instead of one big open floor plan. This allows some party guests to be in the entrance side which has the bounce house area & basketball area and then if you want to get to the other area you would go in the tunnel which is under the internal slide that fits squarely in the middle of the Castle Combo. When you make it to the other side you are greeted by a large bouncing area filled with pop-ups and crawl through which are some obstacle course elements throughout along with the staircase leading to the slide. After you climb the stairs you are on your way down the slide and back to the entrance inside the bounce area. You will need 1 power outlet for this combo rental.
I want to rent the Castle Combo for my party!
Great! We suggest you can do one of 3 things. You can book the Castle Combo rental online by adding this to the cart and filling out the information along with a 25% deposit with the remainder due the day of the rental, or you can call us at 717-650-7657, or you can email us at info@3monkeysinflatables.com. If you have questions however give us a call before placing your order & we can help answer any questions for you. Also, don't forget that we rent carnival games, giant games, Table & Chair Rentals, Tent Rentals, Generator Rentals, Water Slide Rentals, Novelty Rentals, and much more!
The Castle Combo Unique Schematics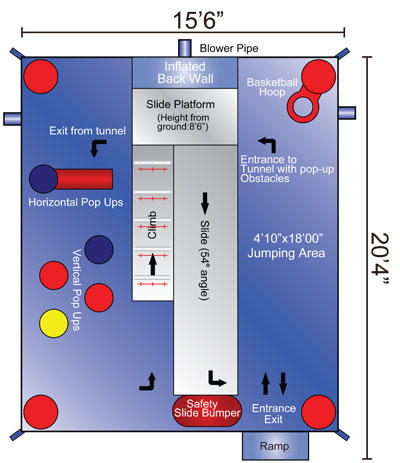 Enter the unit on the right side in the Jumping Area with Basketball Hoop. Then move to the back to crawl through the tunnel to the "obstacle course jump area" featuring pop-ups both vertical and horizontal along with a stair climb to the top of the slide. The Center features a Slide with a safety bumper below.
Bounce Area
The Bounce Area offers all you need for up to 8 guests (or 800 pounds, whichever you exceed first) to jump, bounce, and feel like they are jumping to the sky in this incredible castle-themed combo bouncer rental.
Basketball Hoop
The Basketball hoop is positioned in the corner of the jumping area allowing for traffic to jump and flow well without the hindrance of kids playing basketball in the back corner. It's in the perfect spot to allow for maximizing that shared space with the. jumping area.
Tunnel Inflatable Area
Ok, so who doesn't love the idea of going through a tunnel while in a bouncy castle? I know most kids think this feature is awesome and they get pretty excited. The tunnel is placed to divide the two areas of the jumping area and the Obstacle course area. This is so smart in design and allows for virtually two different groups to share this space.
Obstacle Course Area in the Castle Combo Rental
This is the other side of the Jumping area that features a horizontal pop-up area, vertical pop-ups, and a pretty roomy jumping area as well. Kids will enjoy jumping in and out of the vertical pop-ups and playing on the horizontal pop-ups which are very reminiscent of the pop-ups normally featured on obstacle course rentals. Fun is just all over this castle combo bouncer.
Slide in the Castle Combo Rental
The Slide featured in the castle combo is what we call an internal slide meaning you enter and exit from within the unit. This is great so moms don't have to help little ones from the slide to back in the entrance as they play. Moms can just be watchful of the play going on in the unit but give their arms a break and get some downtime on the workout of the lifting of the kids with the traditional outside slide exits. This unit for that reason alone we recommend to preschools and very young kids because they get to stay and play without having to take the slide and realizing they need to now to re-enter the unit.
Safety Ramp and Netting 360 degrees on the Castle Combo Rental
Last but certainly not least the Castle Combo Bouncer has a safety ramp for the entrance that allows for an easier and softer boost into the castle combo as well as easier exit having that "stair-like" ramp at the entrance so it's a gradual exit as opposed to a drop out of the combo bounce house. Keep in mind the entire unit is covered in netting windows allowing airflow, as well as allowing for perfect viewing capacity for parents and attendants to monitor the play going on within the unit.
Frequently Asked Questions about the 5 in 1 Castle Combo
Q: Why should I trust 3 Monkeys Inflatables for my Wet/Dry Combo Bounce Rental?
A: 3 Monkeys Inflatables has been in the party rental industry for over 13+ years with a proven track record. Our inventory and Combo Bouncer Rentals are regulated by the Department of Agriculture Ride Safety Division for safety and standards. 3 Monkeys Inflatables has 3 State Ride Inspectors on staff who are heavily involved in creating and executing our Ride Safety Training with our staff. We continually evaluate the safety standards by the state paired with our own safety standards parent-tested & add continuing education for our team. We were the first company in our area to offer Combo Bouncer Rentals, and continue to be the only company in the area that is a trusted manufacture and industry repair company.

Our Combo Bouncer Inflatables and Party Rental Equipment are well maintained and are cleaned and sanitized. We are fully insured and meet/exceed all safety inspections daily. 3 Monkeys Inflatables is family-owned and operated. The business is part of our family and has begun business in 2007 when our kids were small. In 2020 both of our oldest sons became full-time in the business, with the youngest son joining the business part-time as well.

Our rentals are for 8 hours. We offer up to 8 hours for one low price We treat all of our customers like family and old friends. They are important to our business and we love making sure their events highlight the fun and easy rental with lots of love and laughter and the only focus is the actual celebration!
Q: Do I need to supply my own Water Hose for this wet/dry combo?
A: Yes, for our water slide rentals they do come with a hose attached within the unit however that hose does need to attach to your water hose and be able to run the distance of where you are setting up to the hose bib. If you are worried that you don't have enough length of hose, please contact our office we do have rental hoses that you can use if you happen to not have a need for a long water hose. Our office number is 717-650-7657 or 410-581-5867.
5n1 Castle Bounce Delivery Area
We deliver to Central PA and Northern Maryland cities like Lancaster, York, Harrisburg, Hershey, Gettysburg, Baltimore, Reading, Owings Mills, Hanover, Shrewsbury, Dallastown, Lititz, and many more!
Requirements for the 5n1 Castle Bouncy House:
Occupancy: 8
Dimensions: 20.4' L x 15.6' W x 14.6' H
Outlets: 1 Standard 110-volt GFCI outlet within 100 feet of the unit. Castle Combo Generator Rentals are available.
Attendants/Monitors: This item requires (1) the Attendant to stay with the unit while in use. You may use your own attendant, or book an attendant with us by clicking this link. Read more about attendants here.
Setup: Please specify when you book this item if you will be setting up Indoors or Outdoors. If outdoors we would need to know specifically if it will be on grass or asphalt a minimum of 5 days prior to your booking. All anchors need to be secured using a spike or sandbag according to the manufacture's guidelines. We prefer to use ground stakes when possible, if this is not an option we will need to anchor using sandbags.
Castle Combo Setup Location:
Your setup location needs to be free of rocks, pet waste, sharp objects, or any other hazards.

We cannot set up under any utility lines and must have a clearance of 5 feet in all directions away from any obstacles.

Please make sure you clear a spot for us to park & unload the equipment as close to the location as possible. If your parking is further than 75 feet please notify our office or put it in the notes portion of your booking.
5 in 1 Castle Combo Bouncer Includes:
Professional setup/tear down.

We are registered with the Dept of Pennsylvania/Maryland State Amusement Industry

We have Liability Insurance

Pre and Post Event Cleaning, Sanitizing and Inspection

Staking and/or Sandbagging

Tarping (not indoors as it becomes a safety concern)

Extension Cords (we bring out the extensions needed to get electric to the spot you are setting up in) Keep in mind we can only go 100 ft max.

Safety Training