ANGRY Monkeys Carnival Frame Game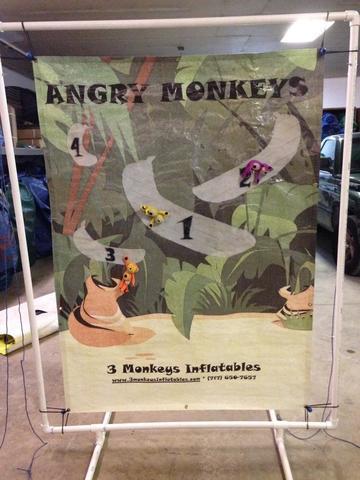 Description
Angry Monkeys Carnival Frame Game Rental
3 Monkeys Inflatables is your Carnival Frame Game Rental Specialists in Harrisburg, Lancaster, Dauphine, Hanover, Spring Grove, Reading, Baltimore, and Dallastown Area.
How to play
Toss the Monkeys at the Bananas to see where you can get them to stick...How many pts will you earn? This game can be customized based on the age of the participants! Make it harder for adults giving them a harder score to aim for and kids an easier score. In this fun and silly game, the participant tries to toss the Monkeys at the Bananas to see where you can get them to stick. Yes, we said it correctly even though it may sound a little backward! You are not throwing bananas at monkeys; you are throwing the monkeys to see just how many points you can earn. One of the great things about this game is that it can be customized based on the age of the participants! You can make it more challenging for adult participants by challenging them to aim for the higher points whilst having younger children aim for the smaller amount of points
Carnival Game Details
Angry Monkey Carnival Frame Game Rentals come with 3 monkeys to throw off course at the target! They are soft and easy to grip whether it's an adult or a kid this game is designed to attract all age groups and ability levels. Kids will have fun competing against one another to see who scores the most. The fun game of throwing monkeys at the bananas has a fun look that will bring out the fun with each participant. This is an exciting, fun, and easy game to play with that's perfect for all age groups and developmental abilities.
Book Now
If you are ready to add the Angry Monkeys Carnival Game to your cart along with some other items feel free to do that online by adding to your cart and filling in the details you are prompted for to complete your order. We do ask for a 25% deposit and the remainder due the day of the rental at the time of booking. If you need help with your booking details or just have questions you can call at us 717-650-7657 or email us at info@3monkeysinflatables.com
Make sure you have everything you need for your event.
Do you need to complete your party or event rental order with tents, tables, or folding chairs? 3 Monkeys Inflatables can be your one-stop, party rental shop! If you want to spoil your guests a little extra add on a yummy concession rental such as cotton candy, popcorn, sno-cones, mini-fair donuts, or even a hot dog roller! Or really spoil them and get the pucker powder mini machine where they can create their own tube of sugar while picking their favorite flavors! It will remind many of the old-fashioned Pixy Stix! Kick it up a notch and really wow your guests by offering game choices that will encourage participation, friendly competition, and the opportunity to show off skill! Choose from bin games, frame games, carnival games, inflatable games, and GIANT games.
Generator Rental
This game rental does not require electricity, but do you have other rental items that do? And are you worried you are going to run short on electricity? 3 Monkeys also offers generator rentals for Inflatables or anything else that may require power. If you are planning to use a generator for inflatables, our large generators will run up to 4 blowers on each generator (depending upon the amps). This does not mean it will run 4 inflatables as some inflatables take more than one blower. Generator rentals will include a full tank of gas, which will normally run a generator for 4-5 hours depending on how much power you are running on the generator. Any additional gas needed during your event will need to be supplied by you and they take regular unleaded fuel.
Do you deliver?
Absolutely, we deliver all rental items right to your venue. 3 Monkeys Inflatables proudly delivers to Central PA, Northern MD, and many other areas too. We are frequently seen around Red Lion, York, Lancaster, Mechanicsburg, Harrisburg, Millersville, Reading, Downingtown, and many other cities too. If you are placing an order online and do not see your city listed on our drop-down menu, please call the office at 717.650.7657. Never assume that because your city is not listed that we will do not service your area. We are continuously expanding our delivery areas and would love to add your hometown too!