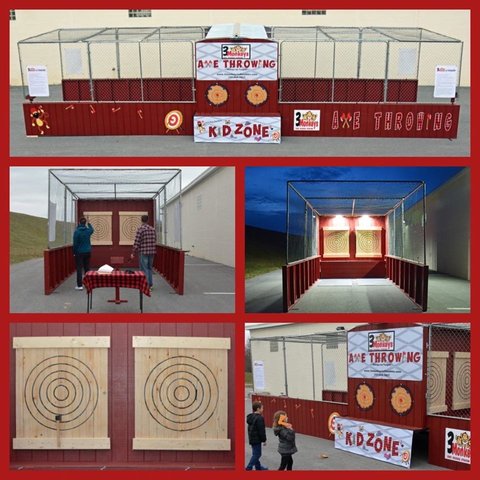 Axe Throwing 2 Lane Rental
Axe Throwing Trailer 2 Throwing Lane Rental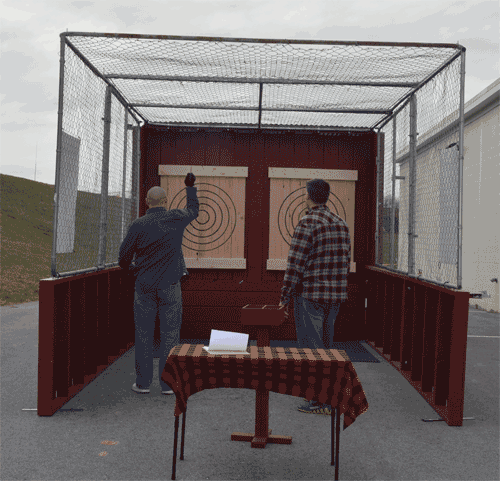 Mobile Axe Throwing for Rent delivering to York, Harrisburg, Lancaster, Carlisle, Baltimore, Reading, and more
Axe Throwing is becoming all the rage. We deliver Axe throwing all throughout Pennsylvania & Maryland. But rather than having to take your group offsite, let us bring the axe throwing to you. Our mobile axe throwing trailer is also a great activity to have at festivals, fairs, college events, and corporate picnics. 3 Monkeys Party Rentals is one of the first in the area to offer Portable Axe Throwing Trailers.
Why Axe Throwing Trailer Rentals?
Axe throwing is a great team-building activity. Since a lot of people have not had the opportunity to try axe throwing, it can even the playing field making the team building event that much more fun. It can also be very competitive for a group of friends, making it great for fairs and festivals. Get your guests excited about your next event by having our mobile axe throwing trailer be the spotlight. This is for a 3 hour rental with additional hours at $150 hour. Our Axe throwing trailer rentals feature a full gated over top and sides down the entire length of the lane as safety is our biggest priority. We even feature an Axe cubby that is for your safety when you are in between throwing the axes they will sit face down in the cubby.
Adult Axe Throwing Party
Who doesn't want to have an adult axe-throwing party rental in their backyard or event. Axe throwing is the adult party rental #1 choice. It pairs the ultimate in entertainment for high school, college, adult parties, over the hill parties, and just about any type of party like bachelor or bachelorette parties, festivals, fairs, and many other fundraising event rentals. Trust the axeperts and use 3 Monkeys Inflatables for all of your Axe Throwing Mobile Parties.
Book your Axe Throwing Party
Book your next Mobile Axe Throwing 2 Lane Party for any type of event by clicking on the add to cart selection and then choose your date and 3-hour rental times you prefer. Don't worry 3 Monkeys Inflatables will be set up and ready to go prior to your axe throwing rental time and ensure we are ready to play prior to your party or festival time. Add your event address and contact information and pay the 25% deposit. If you need help with your booking simply call our office at 717-650-7657 and we will be happy to help you book the axe throwing event rental. Keep in mind you get the kiddo velcro axe area free with your 2 or 4 lane axe throwing rental. The kiddo axe throwing is on the outside of the gates so they are completely safe from any axes on the adult axe throwing area.