Battle Dome Interactive Arena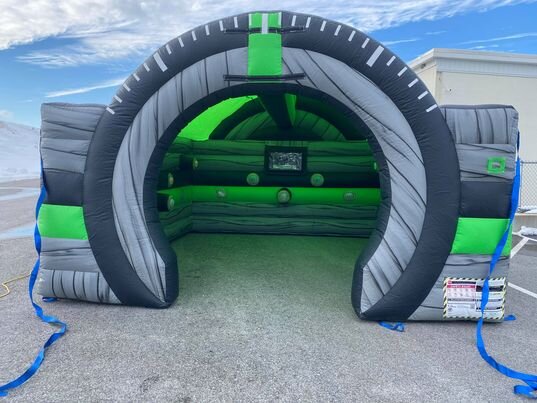 Actual Size: 14'W x 14'L x 9.5'H
Monitors: 1
Outlets: 1
Age Group: Kids | Teens | Adults
Description
Battle Dome Interactive Arena Rentals
Battle Dome Interactive Arena Rental to Harrisburg, York, Lancaster, Carlisle, Spring Grove, Baltimore, & Bel Air
What is the Battle Dome Interactive Arena Rental?
This interactive game can be played by two players at a time. Hanging in the back center of the arena is a scoreboard that will be both your scorekeeper and your timer. There are 19 light pads placed around the arena. There are a variety of game modes that you can choose to play. When you are playing multiplayer games, be careful because you will both be running around at the same time and you may have to maneuver around one another to get to your color light pad! This is a game of both speed, agility, and stamina! Onlookers can watch from the dome entrance and cheer on the participants.
IPS and Battle Dome
The Battle Dome pairs the battle dome arena with the IPS rental system. It's an interactive game system that allows you to "hit" the buttons and play a bunch of different game modes on the system. The IPS is a very popular interactive game system that is typically popular amongst our school groups, church groups, college & high school post proms, grad parties, and mini thons, as well as backyard parties and corporate event rentals. Little ones can play with this system as well as the lights in one game for example light up red and green and the object is for each opponent or team to pick a color and when a random spot, lights up, to get it before the other team and get more of your colored spots off before the other teammate. Keep track of your score on the live scoreboard conveniently situated in the center of the dome!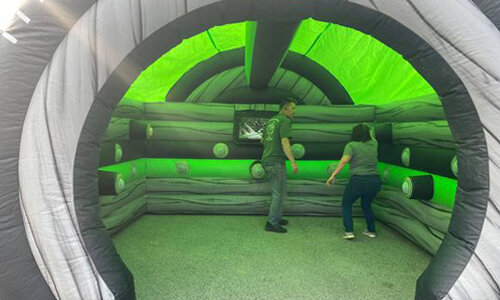 Do you have anything similar?
As a matter of fact, we do carry something similar. Check out our IPS cone system which uses the same IPS lights only they are inset into the top of cones and the cones can be spread out however you want in whatever pattern you want. The games are similar and opponents race to tap the lights as they light up in random patterns. There are many different games that can be played on both the battle dome and the IPS cones.
What other items pair well with the Battle Dome Interactive Arena?3 Monkeys Inflatables has a large game selection for you to choose from. You can keep your guests busy for hours with our games. We have a large selection of Giant Games (Checkers, Jenga, Scrabble, Yard Pong, Corn Hole, Battleship, Connect Four, Pick Up Sticks, Operation) and traditional Carnival Games (ring toss, frame games, bin games, etc.). Inflatable Obstacle Courses are always a great addition to any event, as well as our Extreme Interactive Inflatables. Some of our Specialty Rentals include Rock Walls, Trackless trains, Bumper Cars, Mobile Escape Rooms, Zorb Balls, and so much more! If you are not quite sure what would be the right items for your guests, we have reservation specialists standing by to help you choose just the right items. Give us a call and we will help you out: 717.650.7657.
Common Questions and Answers:
Q: Does the Battle Dome Interactive Arena require power?
A: Yes, the battle dome itself is inflatable and will require power. We ask that you have power available within 50 feet if possible. If you have power available within 100 feet we will need to know in order to bring an extra cord. Anything outside of 100 feet will require a generator rental.
Q: Can this be played by individual players?
A: No, this is intended to be a two-player game as they battle one another until the end of the buzzer.