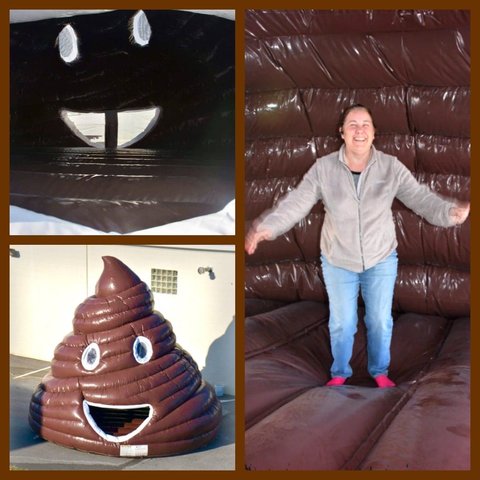 Big Stinka Bounce House #73
Big Stinka Bounce House Rental York, PA
3 Monkeys Inflatables York Pennsylvania Bounce House Party and Event Rentals
Big Stinka Bounce House Rental is definitely an eye catcher. It goes great with a College or High School Party, or any over the hill themed parties, as well as Emoji Parties. Both boys and girls fall in love with this bounce house and how unique it is. This bounce house is suited best for ages 5 and up however it can be enjoyed by any age. Great for backyard parties, church events, school events and even corporate events.
What the big stink about?
Have you ever said to yourself….what I need is a bounce house shaped like a huge pile of poo. Well you are in luck! The Big Stinka Bounce House is a full size commercial bounce house standing over 15 feet tall that looks like the biggest pile of DO-DO you have ever seen. This unit also doubles as a selfie spot and at most events, it turns into the talk of the party. Create memories for years to come with this unique pile of poo jumper. Your event guests will have the best time jumping in and taking pictures of themselves with this bouncer.
To book the Big Stinka Bounce House
Simply click on icon ADD to the cart and you will be prompted to choose your date and times. When choosing your times think about choosing the time that your party starts and ends and then we will make sure to schedule the delivery up to 4 hours prior to ensure that it is setup and ready to go by your start time. If you need assistance booking give us a call or email us. We are here to answer all your questions and help you get the most out of your rentals. 717-650-7657 | 410-581-5867 | info@3monkeysinflatables.com
Copyright © . 3 Monkeys Inflatables LLC. All rights reserved. Red Lion PA (717) 650-7657