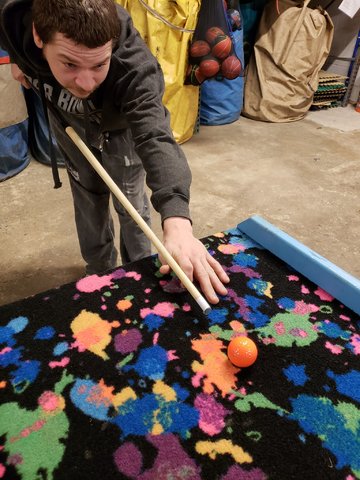 Description
Billiards Golf Table Game Rental
3 Monkeys Inflatables provides Game and Entertainment Rentals in York, Lancaster, Harrisburg, and surrounding areas throughout Pennsylvania and Maryland
Have you ever thought about how you would love to play miniature golf but are torn because you want to play pool with friends? If you are looking for something a little more cutting edge that will be exceptionally unique and interesting for your guests, we have the game for you - the Billiard Golf Table Game Rental. Get your cameras ready because this game is essentially putt-putt mini golf but played with billiard sticks. This particular rental includes nine (9) 8-foot tables, pool cues to play, pool chalk, and golf balls! Silly yet fun, right? Also included are scorecards and pencils for up to 50 guests.
Fast & Fun Game Rental
This is a fun and fast-paced game especially for skilled players who are good with both hand-eye coordination and have skills in shooting pool. This is going to be one of those games that will have pictures taken, laughter flowing and good times had by everyone around (even if they are not playing). This is perfect for middle school, high school proms, post proms, College events, parties, church events, and Corporate Outings. Bring the fun to your next event with our Wacky and fun games. We have many other game rentals to choose from that will pair great for your event rental with the billiards golf table game rental.
Does this game rental require any power?
No, this golf game rental does not require any power. The only golf rentals requiring power are the blacklight golf and the inflatable mini-golf.
Now Offering Different Golf Rental Options
Most people love a little miniature golf, not just golf enthusiasts. As our inventory grows we now offer several different mini-golf options that can be brought right to your event. We have our regular mini-golf course that can be rented as 1-, 3-, 6-, or all 9- holes and has blacklight capabilities as the carpet on each hole is blacklight carpet. There is an additional charge for the backlight option. Recently added is our 9-hole, inflatable mini-golf course that makes for an amazing centerpiece at any event and is both very family and social-distance friendly. All of our miniature golf rentals include clubs, golf balls, pencils, and scorecards. Also be sure to check out our Wacky Golf option that has unique and quirky items such as toilet seats, plungers, and more!
Delivery
We offer delivery to York, Lancaster, Harrisburg, Hershey, Hanover, Ephrata, Lititz, Enola, Gettysburg, Sinking Spring, Reading, and many more Central Pennsylvania Cities and Northern Maryland cities. Depending upon your distance from our shop there will be a travel fee as well as an order minimum. If you are unsure as to whether or not we deliver to your city please call our office at 717-650-7657 and ask one of our booking specialists.