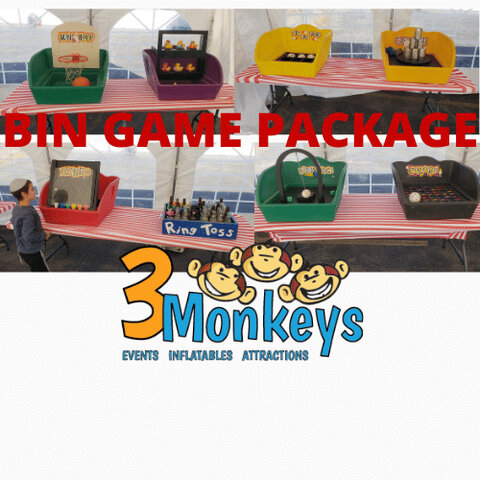 Description
Carnival Bin Game Package
Packages for Carnival Games in Central PA
The Carnival Bin Game Package contains four of our 6 ft tables, along with our 8 popular bin games consisting of the following:
Bottle Ring Toss Game
Can Smash Carnival Bin Game
Colors Carnival Bin Game
Duck Carnival Bin Game
Mini Hoop Carnival Bin Game
Wreck n Ball Carnival Bin Game
Plinko Carnival Bin Game
Tic Tac Toe Carnival Bin Game
We also pair, along with the bin games we will supply 4 carnival theme table covers to ensure your game rentals attract tons of attention to your event and make a huge splash. 3 Monkeys Inflatables is your game package leader serving popular cities across Central PA like York, Lancaster, Harrisburg, and more. Our Game Packages are full of games that are easy to play and for all types of abilities as well as disabilities. Everyone will feel engaged and able to participate in these easy-to-play fun game rentals.
Game Packages
3 Monkeys Inflatables is a PA and MD game rental package leader for offering you great game packages to help bring that type of carnival-themed package that will have guests arriving at your parties and events excited to see what a big spread of entertainment items you have at your setup site. Whether you are planning a birthday party, graduation party, or corporate party the game package can help create a larger-than-life feel to your party for very minimal cost.
How do I book a game package?
To book a game package rental you can simply add it to your cart, and click on check out. Then you will add your event information, and personal contact information and pay for a 25% deposit. After you place the online order you will get a confirmation email showing your order is placed. You can then pay the remaining balance beforehand or on the day of setup.
FAQ
Question: Do I need to supply a Table for the Bin Game Rentals?
Answer: Great news, you do not need to worry about setting up a table for the bin game rentals. This package comes with the tables needed for the bin game rentals.
Question: Can I pick up these game rentals?
Answer:
We typically have these game rental packages come with a bounce house, water slide rentals, and other party rentals, however, if you would like to pick up the game rental package that would be something you can do if you are able to pickup and drop off the same day.