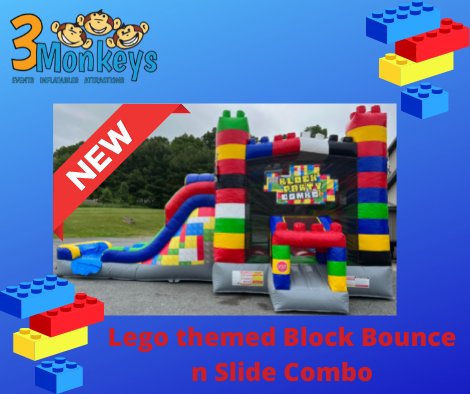 Actual Size: 20L x 19W x 15H
Outlets: 1
Description
Block Party Combo in PA & MD
Lego-inspired Block Wet/Dry Combo Bouncer coming soon!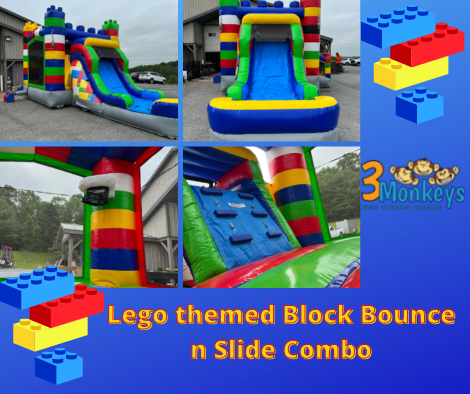 The lego-inspired block combo bounce house rental is designed to fit any theme or event. The block party inflatable bounce house combo can entertain children of all ages and allow them hours of healthy activity. The Block Party wet/dry combo not only features great giant colorful graphics of that ever-popular lego theme, but it also features a large bounce area and a water slide or dry slide, whichever you choose to use the slide addition for. Additionally, you get a basketball net inside and a rock-type climb to the slide area.
Wet or Dry Combo Rental
Did we mention this unit can go out as both a dry unit and also a wet unit with adding a hose attachment to turn this into the waterslide feature! Have fun in the spring/fall with this extra-large block combo with so much to do! Then in the heat of the summer add the water feature onto the block slide to create a water slide on this unit! You will need 1 power outlet for this combo rental and you will need to have a hose that reaches the inflatable so we can connect your garden hose to the sprinkler hose in the unit. If you are planning on using the block bouncer Combo without water you will just need the power outlet for the blower and that's it. We will simply not attach the hose to the unit, therefore, allowing you to use it dry only.
I want to rent this unit for my Lego party!
Great! We suggest you can do one of 3 things. You can book the block Combo rental online by adding this to the cart and filling out the information along with a 25% deposit with the remainder due the day of the rental, or you can call us at 717-650-7657, or you can email us at info@3monkeysinflatables.com. If you have questions however give us a call prior to placing your order and we can help make sure you have all the correct information in your order. Also, don't forget that we rent carnival games, giant games, Table & Chair Rentals, Tent Rentals, Generator Rentals, Water Slide Rentals, and much more!
Delivery Area
We deliver to Central PA and Northern Maryland cities like Lancaster, York, Harrisburg, Hershey, Baltimore, Reading, Owings Mills, Hanover, Shrewsbury, Dallastown, Lititz, and many more! Click below. our delivery map to see the other areas we service. We are always available via phone at 717-650-7657 or email info@3monkeysinflatables.com if you need help reserving your inflatable and party inflatable combo bouncers.
Frequently Asked Questions
Q: Why should I trust 3 Monkeys Inflatables for my Block Party Wet/Dry Combo Bounce Rental?
A: 3 Monkeys Inflatables has been in the party rental industry for over 13+ years with a proven track record. Our inventory and Primary Combo Bouncer Rentals are regulated by the Department of Agriculture Ride Safety Division for safety and standards. 3 Monkeys Inflatables has 3 State Ride Inspectors on staff who are heavily involved in creating and executing our Ride Safety Training with our staff. We continually evaluate the safety standards by the state paired with our own safety standards parent-tested & add continuing education for our team. We were the first company in our area to offer Combo Bouncer Rentals, and continue to be the only company in the area that is a trusted manufacture and industry repair company.

Our block party Combo Bouncer Inflatables and Party Rental Equipment are well maintained and are cleaned and sanitized. We are fully insured and meet/exceed all safety inspections daily. 3 Monkeys Inflatables is family-owned and operated. The business is part of our family and has begun business in 2007 when our kids were small. In 2020 both of our oldest sons became full-time in the business, with the youngest son joining the business part-time as well.

Our rentals are for 8 hours. We offer up to 8 hours for one low price We treat all of our customers like family and old friends. They are important to our business and we love making sure their events highlight the fun and easy rental with lots of love and laughter and the only focus is the actual celebration!
Q: Do I need to supply my own Water Hose for this block party wet/dry combo?
A: Yes, for our water slide rentals they do come with a hose attached within the unit however that hose does need to attach to your water hose and be able to run the distance of where you are setting up to the hose bib. If you are worried that you don't have enough length of hose, please contact our office we do have rental hoses that you can use if you happen to not have a need for a long water hose. Our office number is 717-650-7657 or 410-581-5867.
Here are some pictures of some views of the inside of this primary-colored wet/dry combo
Block Party Combo Requirements:
Occupancy: 6 individuals
Dimensions:
28'L x 15'6W x 12'9"H
Outlets: 1 Standard 110-volt GFCI outlet with 12 amps within 100 feet of the unit.
Generator
Rentals are available.
Attendants/Monitors: This item requires (1) the Attendant to stay with the unit while in use. You may use your own attendant, or book an attendant with us here
. Read more about attendants here.
Setup: Please specify when you book this item if you will be setting up Indoors or Outdoors. If outdoors we would need to know specifically if it will be on grass or asphalt a minimum of 5 days prior to your booking. All anchors need to be secured using a spike or sandbag according to the manufacturer's guidelines. We prefer to use ground stakes when possible, if this is not an option we will need to anchor using sandbags.

Lego Combo Setup Location:
1. Your setup location needs to be free of rocks, pet waste, sharp objects, or any other hazards.
2. We cannot set up under any utility lines and must have a clearance of 5 feet in all directions away from any obstacles.
3. Please make sure you clear a spot for us to park & unload the equipment as close to the location as possible. If your parking is further than 75 feet please notify our office or put it in the notes portion of your booking.
Block Party Combo Inflatable Includes:
Professional setup/tear down.
We are registered with the Dept of Pennsylvania/Maryland State Amusement Industry
We have Liability Insurance
Pre and Post Event Cleaning, Sanitizing, and Inspection
Staking and/or Sandbagging
Tarping (not indoors as it becomes a safety concern)
Extension Cords (we bring out the extensions needed to get electric to the spot you are setting up in) Keep in mind we can only go 100 ft max.