Blue Wave 24ft Water Slide
60' L x 15' W x 24' H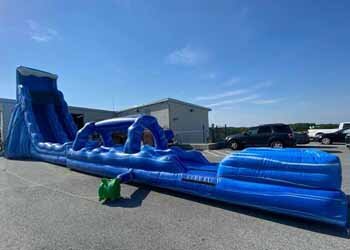 Setup Area: Level ground – Make sure the setup area for your slide is mostly level. It can have a very, very slight slope or grade (under 3 degrees)
Description
Blue Wave 24ft Water Slide

Blue Wave Water Slide 60 long, feet of fun!
The Blue Wave Waterslide Inflatable for rent stands a whopping 24 feet high and extends to 60 feet of sliding fun in this single-lane waterslide for rent. Water Rentals are so much fun to add to just about any type of party. This particular water slide rental is pretty generic summer-themed allowing you to add just about any type of theme for birthdays, graduation parties, anniversary parties, block parties, church events, corporate events, camps, and so much more. Ride the blue wave water slide to your next event and I am sure you can see how much fun having a water slide inflatable rental.
24 ft Blue Wave Water Slide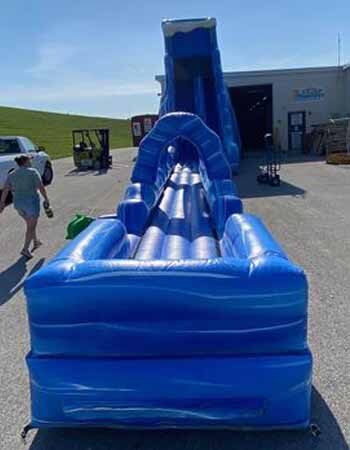 This slide rental is 24 ft. the tall waterslide that has a single lane slide that goes into a slip n slide and splashdown landing for the ultimate in excitement and fun! You will fly down this slide with its completely vertical lanes, race into the slip-n-slide landing, then finally splashing into the landing pad. With one single lane, kids and "big kids" can race typically go pretty quick turn around on this slide. This waterslide for rent near me features a wave theme for any summer party, or just for those that like to have some staycation summer fun. This slide is much bigger in person than expected, and will complete any party where you want this as a centerpiece. If you have a thrill-seeking side, the 24ft Blue Wave Bouncey Water Slide is for you. This slide is best for ages 6 to adult. This is the perfect addition to any birthday, graduation, block party, or Fourth of July parties. You can't go wrong! The 24 ft Blue Wave Water Slide is perfect for thrill-seekers looking to rent a water slide in the Central PA or Northern MD area.
Specifics on 24ft. Blue Wave Water Slide Rentals
On this slide, you climb up the right side and slide down on the left side for single lanes making monitoring easy. The Blue Wave measure 15' wide by 60' long and 24' tall. You need a fairly big area for this slide to sit without any low-hanging trees. 3 Monkeys Inflatables provide tarps to put under the entry and exit to minimize the muddy mess water activities bring along. There is a wall at the end to stop the momentum from the slide so as you are entering the exit area you should swing your legs over to the exit area so your bottom hits into the lane end. All inflatables through 3 Monkeys Inflatables are licensed and inspected with the state of Pennsylvania and Maryland for safety and are lead-free! For set-up on this slide, you will need three separate outlets for a total of 21 amps, as this unit requires three blowers, as well as a garden hose that reaches the area for the slide so we can connect that to the hose within the water slide rental. With all of our water slide rentals and water rentals we get asked often some questions that we hope we can help to answer for you below:
Frequently Asked Questions about Water Slide Rental York?
1. Do you need water or do you bring it with you?
Answer: We do not bring the water with us. You will need to provide us with hose access from your garden hose. It is important that you ensure you have a long enough hose to reach the area we are putting the inflatable water slide so that we are able to attach your garden hose to the hose within the unit. We will bring a splitter in the event you need one for the size water slide you rent, however, we will need that returned at the end of the rental.
2. Do you need to have power?
Answer: We do not bring the generators for power with us unless you reserve them with your inflatable slide or bounce rental. You will need to provide us with power access from either an outlet on the house or facility we are setting up at or from running inside a window. However, it is important to note that it needs to be 50 ft or less distance to the power of you need to notify the office so we bring out a 100ft cord. (We cannot go over 100ft of cord or at that point, you will need to add a generator to your rental) Also some water slides, obstacles, and inflatables have the power that requires two, or three blowers and that cannot be run on the same circuit or it will cause your circuit to trip. Keep in mind the power requirements and contact our office if you have further questions.
3. How much water will I use?
Answer: We have no way of determining how much water you will use over the period of time you are using the water inflatable, however, we always set the water to a "trickle" and suggest you don't mess with that setting on your hose because that is all you need to create a fun water slide experience and extra water could lead to mud, and too saturated ground causing soft ground at your location. This can also add to an extra pickup charge if you decide to turn up the water and it creates mud forcing us to get it out at the shop to clean the mud off.
4. How big of an area do I need?
Answer: You will need to pay close attention to the dimensions of the unit you are renting as we list them all clearly on our website in both our requirements section of the item listing and most times also somewhere in the description of the item as well. :)
5. Do I have to be there for the rental drop-off?
Answer: You do not need to be there for drop off but you do need to either digitally sign the contract online ahead of time and then have somewhere there over the age of 18 to sign the operator instruction sheet and sign the contract if it was not previously signed digitally. It is great for our customers to be there who rented the inflatable slide or inflatable rental as we go over all types of details and train you on the use of the item rented ensuring that you will have a great experience with your rental with 3 Monkeys Inflatables.
6. Do I have to rent one of your attendants?
Answer: You are not required to use our attendant to monitor the inflatable or bounce house however you are required in Pennsylvania to have someone monitoring the amusement ride unit the entire time it is inflated until it is deflated and picked up by our staff. This attendant or monitor does need to be 16 or older and has read and gone over the operator instruction sheet and sign off that they fully understand everything listed on there. We are always available by phone when/if a question arises.
Delivery Area:
Our delivery area for the 24ft Blue Wave Water Slide includes Pennsylvania cities of York, Lancaster, Harrisburg, Dallastown, Hanover, Dover, Wrightsville, Shrewsbury, Mechanicsburg, Lakewood, Boiling Springs, Middletown, Pottstown, Millersville, Elizabethtown, Manheim, and Northern Baltimore cities of Baltimore, Woodstock, Laurel, Owings Mills, Randallstown, and many more.
To book the 24ft Blue Wave Single Lane Water Slide
If you would like to book the Blue Wave Inflatable Water Slide for your party, simply click add to cart or start reservation at the top of the page. Once you enter your party information and 25% deposit to hold the slide, there will be an automatic email confirmation sent confirming your order. Don't forget to check out our tables and chairs, tents, and snow-cone machines to complete your order for the perfect party. If you would rather call to book or need more information, give us a call as we would love to assist you. Let 3 Monkeys Inflatables help you organize your party today! 717-650-7657 or info@3monkeysinflatables.com
Tropical Water Slide Rental Lancaster:
Our Tropical 24 ft Water Inflatable is a great way to cool off and beat the heat while getting the family to stay outdoors during a party or event. Single Lane that allow racing against one another while going down the ultimate rush of 24ft high and 60 feet long to say you fly down this slide is an understatement from the moment you leave the landing you are being splashed with water at the end of the slide...it's that quick and boom it's over and you have to run and climb the stairs again because you can't just go once! This water slide is a must-try on a summer bucket list, the queen of water slide staycation for the Lancaster area!
Blue Wave Water Slide Rental Harrisburg:
Amazing, Fun, Fast, Scary, Wet, and Wild, are just some of the ways our Harrisburg customers describe this 24ft Water Slide Rental. The blue wave theme just gets you so excited that it's summer and you are having a party that will be one for the books. The epic adventure begins when we come to set up the slide and you go down the Giant Water Slide for the first time and scream all the way down and then jump off and laugh and yell "again"...forget the fact that it's for your kids! They can play with it later! That's literally what we see time and time again...it's just too tempting to not try the slide and once you do - you hooked! This slide books the fastest in our system once the warm summer sun comes out so book it now while your thinking about it...it will be gone sooner than you think.
24ft. Blue Wave Slide Requirements
Occupancy: 2 (1 in each lane)
Dimensions: 60' L x 15' W x 24' H
Water Source: Hose
Outlets: 3 Standard 110-volt GFCI outlets (21 amps total) within 100 feet of the unit.
Generator
Rentals are available.
Attendants/Monitors: This item requires (2) Attendants to stay with the unit while in use. You may use your own attendant, or book an attendant with us here. Read more about attendants here.
Setup: We would need to know specifically if it will be on grass or asphalt a minimum of 5 days prior to your booking. All anchors need to be secured using a spike or sandbag according to the manufacture's guidelines. We prefer to use ground stakes when possible, if this is not an option we will need to anchor using sandbags.

Setup Location:
1. Your setup location needs to be free of rocks, pet waste, sharp objects, or any other hazards.
2. We cannot setup under any utility lines and must have a clearance of 5 feet in all directions away from any obstacles.
3. Please make sure you clear a spot for us to park & unload the equipment as close to the location as possible. If your parking is further than 75 feet please notify our office or put it in the notes portion of your booking.
24ft. Blue Wave Water Slide Includes
Professional setup/teardown.
We are registered with the Dept of Pennsylvania/Maryland State Amusement Industry
We have Liability Insurance
Pre and Post Event Cleaning, Sanitizing and Inspection
Staking and/or Sandbagging
Tarping (not indoors as it becomes a safety concern)
Extension Cords (we bring out the extensions needed to get electric to the spot you are setting up in) Keep in mind we can only go 100 ft max.
Safety Training
shoptagr:installed