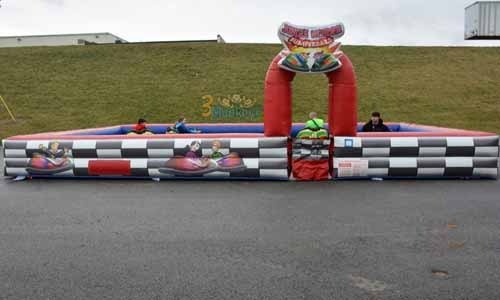 Bumper Car Rental with Arena
Bumper Car Rental with Arena York Pennsylvania
3 Monkeys Inflatables is your Inflatable Specialist in cities like Harrisburg, Lancaster, Reading, Owings Mills, Baltimore, & surrounding areas.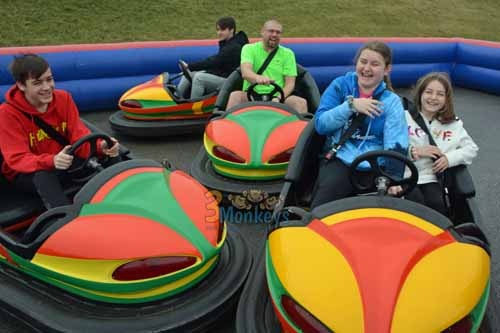 What makes the 3 Monkeys Inflatables Bumper Car Rental with Arena so different?
The 3 Monkeys Inflatables Bumper Car and the arena were manufactured by one of the leading Carnival Ride companies in the US. Fun Attractions which is known for safety, quality, and uniqueness built our bumper cars and arena. Each bumper car comes equipped with safety seat belts. The seats themselves are made to sit down comfortably and offer tons of legroom for event adult riders. This is a perfect event piece for all ages and sizes events including adults.
Tell me more about the Bumper Car Rental with Arena?
3 Monkeys Bumper Car Rental with arena features 4 bumper cars and a fully padded side wall arena allowing participants to bump and have fun without worry to the spectators. Participants will love how fast these cars move while inside the bumper cars and will also love how comfortable the seat belts are while in use. Unlike some older style bumper cars that "hurt" when you bump 3 Monkeys Inflatables Bumper Car Rental with arena allows riders, a comfortable bumper car experience with just fun felt throughout your experience. You also get a staff member who operates the cars via remote with a kill switch if in the event for a safety reason such as a child decides to unbuckle the seatbelt and get out we can stop all riders instantly to ensure a safe transition from riding to exiting the bumper car rental ride. This is also equally important to note if participants are not following rules and listening to directions given by the operator is able to completely stop the ride. This truly becomes your worry-free event piece.
How long do I get to play with the Bumper Car Rental with Arena?
Your fun is set to begin with a 3-hour time frame, however, if you want the fun to last even longer we can extend rental times as long as you want for an additional charge. Remember your ride experience comes complete with a ride operator so you can simply engage in the fun of the ride and join the party leaving us to operate this party experience for you.
What age groups are best for the bumper car rentals?
The bumper cars for rent are perfect for a wide blend of ages from kids through adults, however, we have found that to keep things moving smoothly our minimum age per passenger should be 5 years old and 40" tall. If you want to drive you would need to be 42" and at least 8 years old to drive. We can fit 2 children per car, or 1 child and 1 adult per car. Our maximum weight per car should never exceed 325 lbs.
York Pennsylvania Bumper Car Rentals
York Bumper Car Rentals are a popular backyard party, grad party, college party, community events, church events, grand openings and so many other special event items that will be sure to bring cheers of excitement and photo ops! This unique bumper car experience will get your participants excited!
Do you have more questions?
We would love to answer any further questions you have in regards to this ride or the many other amazing fun experiences 3 Monkeys Inflatables is able to provide for you. Simply call us at 717-650-7657 | 410-581-5867 or email us at info@3monkeysinflatables.com We love to talk about your events.