Can Smash Carnival Bin Game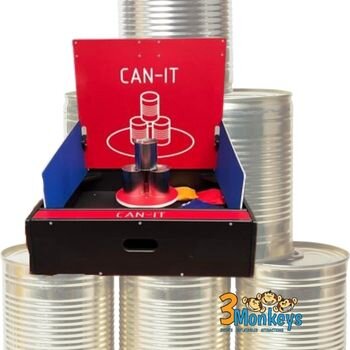 Description
Can Smash Game Rental York Pennsylvania
3 Monkeys Inflatables is your Bin Toss Game Carnival Rental Specialist in Lancaster, Harrisburg, Red Lion, Brogue, Hershey, Shrewsbury, and surrounding areas.
Can Smash Carnival Bin Game Rental
The Can Smash Bin Game is a fantastic tabletop game based on a long-time, classic carnival attraction – Can Smash. Participants will step right up, take a beanbag, and give it their best throw. The object of this game is to knock down as many cans as they can off the pedestal in as few throws as possible. This is a great test of throwing accuracy and speed. The faster and more accurate you can throw, the more cans you will likely knockdown. This is also one of those games that draw a crowd because people love to watch and cheer on the participants. Do we have a winner?
There are plenty of games to choose from
Provide your guests multiple playing options and be sure to check out our choices of bin games, frame games, inflatable games, and several other carnival games. Make your event one that your guests will remember for a lifetime. 3 Monkeys also offers some unique participating opportunities for you to offer your guests with our Bumper Cars, Rock Wall and Euro Bungy, Photo Booth, Electric Trackless Train, VR Coaster, VR Battlezone, Wax Hands, and much more!
What happens after I place my rental order?
If you place your order online, you may receive a follow-up email asking you to confirm a few setup details. This information helps us put notes in the system, that is attached to your order, and provided to the scheduler and the set-up crew. Once we have all the details, you will not hear from us again until about a day or two prior to the actual event. We will be again be confirming the details of your order while also informing you of your estimated times for both delivery and pickup. We will ask you to confirm receipt of these times by either email or telephone. In the meantime, should you need to make any changes to your order we ask that you contact us immediately and allow as much notice as possible prior to your event date. Depending on the specifics and how much notice we are given we may or may not be able to fulfill this request.
Delivery Area in Pennsylvania and Maryland
3 Monkeys Inflatables has been the #1 provider of bounce house and party rentals in the Central PA and Northern MD areas for more than 13 years. Try us for your next party or event and find out exactly why our customers return to us year after year and recommend us to their friends and families. We proudly deliver to many PA and MD cities including Red Lion, York, Harrisburg, Camp Hill, Mechanicsburg, Lancaster, Reading, Marietta, Lititz, Manheim, Chambersburg, Downingtown, Baltimore, Anne Arundel, Columbia, Westminster, Towson, Hunt Valley, and many more!