Chair Banquet -White Folding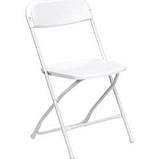 Description
Chair Banquet -White Folding York Pennsylvania Area
3 Monkeys Inflatables is your White Folding Chair Rental Specialist in Harrisburg, Lancaster, Hershey, Gettysburg, Hanover, Baltimore, and Towson Area

.
About the Chairs
Comfortable, attractive, and durable Folding Chair is an excellent addition to any party or event. Invented in the 1960s by the Samsonite Corporation, these plastic folding chairs are timeless in their design and functionality. The Samsonite plastic folding chair is the most popular and lightweight folding chair on the market. It is reinforced with 20 gauge annealed tempered steel. A reverse double-riveted cross-brace adds stability with non-marring foot caps to prevent unwanted floor scuffs. Samsonite is the brand that helped shape the party rental industry.
Each chair weighs in at an unbelievable 6.5 pounds and is certified to sustain a live weight of 300 pounds. The seat and back are made from polypropylene for extra durability. The frame is powder-coated for protection against scratching and wear.
What to expect at the time of delivery
When we deliver your rental chairs we will bring them and place them in the general location you would like them in. They will be placed in stacks for you to set up where you desire. We also ask that when you are finished using the chairs you fold them back up and place them back in stacks so that our pickup crew can quickly pick up the chairs at the designated pick-up time. Your cooperation helps us stay on time which in turn makes for happy customers! The rental cost of the folding chairs themselves does not include the setup and takedown of the party rental equipment York. This is an additional service that we do offer, for an additional fee. If you would like our delivery and pickup crews to set up and take down the folding chairs for rent, at your event, please call the office at 717-650-7657 to ensure that specific service is added to your invoice.
Add Table and Tent Rentals to your Order
If you need more than folding chair rentals for your event we also offer tents in a variety of sizes as well as 6-foot and 8-foot folding table rentals. Our tents can be set up on grass or asphalt but this is something we do need to know at the time the reservation is made. Tents that are set up on grass get staked into the ground and tents set up on asphalt must be drilled into the asphalt to ensure its stability. Get a table and chair package so that you have plenty of seating for your guests.
Questions and Answers about Folding Chairs for Rent
Q: Can you deliver chairs to my venue?
A: Unless you have a very large order of chairs, it probably will not meet the order minimum for delivery. Each city has a different travel fee and orders minimum depending upon your distance from our location.
Q: Can I pick up my chair rental?
A: Yes, if you are placing a small order that does not include inflatables and does not meet the order minimum for your city, you may arrange a customer pickup. Please call our office to arrange a pickup as this type of order cannot be placed online.
Q: Do you have multiple locations to pick up from?
A: No. While we deliver to all of Central Pennsylvania and Northern Maryland, we operate out of one location in York County.
Q: Will the chairs be set up for me?
A: The rental cost does NOT include the setup of the chairs. If you wish for our crew to set them up we can for an additional cost. Please make sure this is added to your invoice if you would like this service. Otherwise, our crew will just stack them at the time of drop off and you will be responsible for setting them up and taking them down. We also ask that you stack th chairs as they were left at delivery for our pickup crew.