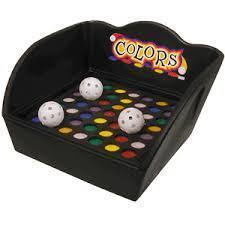 Colors Carnival Bin Game
Colors Carnival Bin Game Rental York Pennsylvania Area
3 Monkeys Inflatables is your provider for Game Rentals in the Harrisburg, Hershey, Lancaster, Gettysburg, Baltimore, Reading and Hanover Area.
How to Play
This board features 49 targets of varying colors, players must hit 3 matching colors to win a prize, or pick a color and try to hit it. Make up whatever rules your party, or organization want. This game is fun for all ages. This game is colorful and fun and can be something that you offer trinket prizes to for the winners of a specific color. This game is easy to use and play so we would recommend that a target age group for the Colors Carnival Game rental be age 3 and up. Players will only need to be able to aim and throw a ball that will be luck of where it falls into the colors. You can allow smaller players to play closer to the game if you would like. The game can be setup on it's own legs that will make it stand around 3 feet tall or you can put it on your own table.
Carnival Game Rentals
We have many carnival game rentals to choose from in our inventory for rentals. Choose from several of our bin game assortment which is easy to setup and play immediately or mix it up with our other choices of carnival games like our frame game options, or some of our unique carnival game options like our Flip a Frog Game Rental. We also have lawn games, inflatable games, and giant game rentals that pair great with our carnival bin game rentals that allow you to make for a mini carnival atmosphere or a full on amazing carnival themed event. We even rent red/white linens for our 8 foot tables to really make for that festive carnival theme!
How to reserve this bin game.
3 Monkeys Inflatables offers a few different options to reserve rental items. Our online booking option is available 24/7 for those who wish to place their order online, by themselves. Simply add the items to your cart by clicking 'add to cart' on each item page and by picking your event date and times. Fill in the required fields and proceed to the payment page where you will be required to make a minimum 25% deposit to reserve your order. If you prefer to speak to one of our reservation specialists, who can help you book your event over the phone call us at 717.650.7657. Lastly, if you want to send us an email with the details of your event and the items you are interested in, we can help you that way too. Send your email to info@3monkeysinflatables.com and we will promptly reply to you.
Why choose 3 Monkeys as your entertainment provider?
3 Monkeys cares about you, your event, and your guests. We know that your goal is to put on a seamless, memorable, and fun time for your guests and we are here to help you do it. We do our best to ensure that you choose the best items for your specific type of event. Paying attention to details is also important. We want to know what age group you are trying to entertain. Do you need a little bit of something for everyone, of all ages, to do? Let us put our expertise to work so that you have an amazing event. 3 Monkeys has been in business since 2007 and we have gained a loyal database of return customers. We continue to reach out, grow, and form new relationships with new customers too. Our rental equipment is innovative, safe, and of top quality for you and your guests. Call or email us today so we can help plan your next event: 717.650.7657 or info@3monkeysinflatables.com
Do you deliver?
Yes! 3 Monkeys Inflatables delivers, sets up, and tears down all rental items. PA has strict regulations and we want to make sure everything is done to the state standards to ensure the safety of all users. We deliver to all, but not limited to, Central PA and Northern MD. 3 Monkeys is your party rental specialist in York, Red Lion, Dallastown, Manchester, Spring Grove, Quarryville, Biglerville, Lancaster, Hempfield, Millersville, Leesport, Bernville, Douglassville, Manchester, Cockeysville, Timonium, Baltimore, Towson, and much more! Please know that your location and distance from our shop determines your delivery fee and possible required order minimum. We look forward to delivering the fun to your next party or event!