Corporate Picnic Dream Package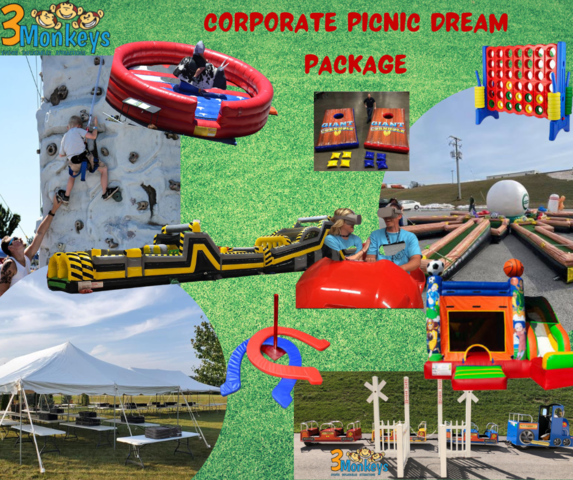 Description
Corporate Picnic Dream Package
This Corporate Picnic Dream Package is perfect for a Corporate Picnic, Team Building, or any type of Family event you may be planning with up to 4 hours of fun! Simply choose the Corporate Picnic Dream Package and get ready to party and have fun!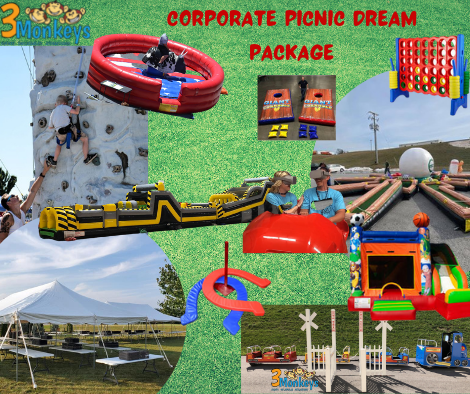 This package includes our popular 4 Person Climbing Rock Wall Rental with a 2-person Euro Bungee Rental, along with a Mechanical Bull Rental, our largest and most creative 115ft Nuclear Obstacle Course that will keep your staff or event participants heavy breathing through this endurance-packed race obstacle rental. Add the Trackless Train Rentals, the Sports Combo, and the VR Roller Coaster Simulator that will have your staff screaming "we want more!", along with the 20x40 Tent and 96 Chairs along with 12- 8ft Tables. Additionally, we have added Giant Games like our Giant Horseshoes, Giant corn Hole Game Rental, Giant Connect 4, and our Giant Inflatable 9-hole Mini Golf.
Need Power?
Just add a few of our Giant Generators for only $135 more along with our Gas 5 Gallon rental to ensure you have covered the entire event. We can hook up to 3 outlets and 35 amps of power on these Giant Generators allowing you to power 3 blowers, or additional items.
Need Catering?
No problem! We provide catering quotes as well that will allow you to sit back and relax while getting a home-cooked picnic-style catered meal made fresh at your event. We can provide hamburgers, hot dogs, chicken, pulled pork, and much more. Check out our entire picnic package selections on our catering picnic-style page. You can also call us and let us know what you want and we will provide your own custom picnic package created in mind for your customer's taste and likes.
4 Person Rock Wall Rental with 2 person Euro Bungee Rental
This is a 6-person at a time rental that allows for 4 rock climbers and 2 euro bungee trampoline jumpers at one time. We typically send at least 2 staff members that are trained operators for this attraction that comes at this quoted price. This is for a 3-hour event rental.
Mechanical Bull Rental
The Mechanical bull rental comes with 1 trained operator to run during your event for up to 3 hours. The mechanical bull for rent is not only perfect for adult and teen riders but our smaller kids 48 inches and above as well as the operator can customize the rider to each participant allowing for a safe, enjoyable, carefree ride.
115 ft Nuclear Explosion Obstacle Course Rental
The Nuclear Explosion obstacle is 115ft long and features a 40ft obstacle course that has popups, barrel rolls, and crawls through areas to weave and dodge your way through while racing your opponent and then you come to the next piece which is the 45ft Incline Obstacle that has the runners now running uphill dodging, weaving, and bouncing their way through the obstacle while still racing against their opponent to now the 30ft Rock Wall Incline obstacle up the steep incline wall to climb to the top of the slide to slide down to victory!
Add more for more excitement!