Drunk Driving Impairment Education Package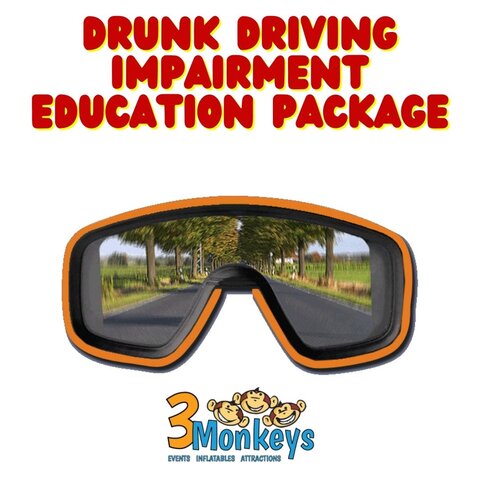 Description
Drunk Driving Impairment Education Package
DUI Educational Entertainment Safety Day Rentals
When it comes to educating teens, and adults on Drunk Driving Education it sometimes can be difficult to get across the message while still keeping their focus enough to have that message sink in. We have found that offering our Entertainment package has allowed us to educate while keeping students and adults engaged. They will have fun and learn at the same time and we have found in our experience that is the best scenario to allow the lesson to be absorbed.
In the Drunk Driving Package, we use our own Drunk Driving goggles made by 3 Monkeys Inflatables exclusively to simulate an impaired vision that is meant to disorientate the participant so that things are not as clear as if they were not drinking. Paired with the "drunk goggles" we have added several games that will test the participant's focus and lack of ability to adapt to the impaired image. This package rental is for up to 4 hours.
Distracted Driving Simulator
Depending on the space and electricity available we will bring anywhere from 2-seat to 4-seat simulators and run either our Distracted Driving Simulator program (if you choose to add Distracted Driving to your educational event) or our Racing Simulator to encourage guests to sit down and drive as normally as they can on the program with their "drunk goggles" on. They will have the opportunity to complete the race or distracted driving course with the impaired driving and see if they end up crashing or just simply not being able to navigate out of the parking lot.
Drunk Obstacle Course
In the Drunk Obstacle Course challenge participants will enter the obstacle course 2 at a time with the "drunk goggles" on and attempt to navigate the obstacle in a race against their opponent. What they will notice is how unsteady the ground is on the inflatable further simulating that impaired type of feeling, and they will notice that items appear to be further away from them in the obstacle as they stumble and weave themselves through the obstacle course to the end. Something that should have taken them 45 seconds to get through might take them upwards of 1 minute and 30 seconds at best to get through.
Drunk Jenga
In the drunk Jenga game rental as you probably already guessed Jenga is a game of concentration and steadiness along with a keen eye to keep your hands steady during taking and placing your Jenga piece. Now imagine you trying to do all of that wearing drunk goggles where your eye and hand coordination is impaired and you will find that this simple Jenga game rental has now become far more complex in seeing the results of impairment.
Drunk Operation Game
The Drunk Operation Game is an oversized Operation game rental that you would "operate" and hear a grouping of different sounds that let you know you touched the side and therefore were not able to extract the piece safely out of your patient. Now add the drunk goggles and you are now teaching participants really how hard this action of the localized hand and eye coordination becomes that much difficult under your new impaired vision.
Drunk Bumper Cars
We love this drunk attraction the best because it really is hard to navigate through the bumper car arena without truly bumping into your other opponents but also the kids are having fun and it's something they will take with them forever.
Service Area:
We provide delivery services in York, Lancaster, Dauphin, Cumberland, Berks, bucks, Central PA, and surrounding areas in PA and MD.