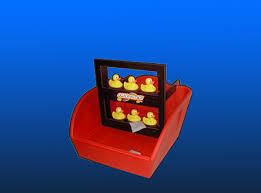 Description
Duck Carnival Bin Game Rental York Pennsylvania Area
3 Monkeys Inflatables is your Duck Carnival Game Rental Specialist in Lancaster, Dauphin, Harrisburg, Reading, Hershey, Hanover, Spring Grove, and Baltimore Area.
Fun and Easy Carnival Game
This is a fun carnival activity. Throw the bean bags and the ducks and see if you come up with a winner! These bin games are perfect to put up to 2 per 8-foot table and create an amazing carnival booth look for your next party or event. The Duck Bin Game is a fun, easy, carnival activity that you will want to have at your next event. Participants step on up to throw the bean bags at the ducks to see if they can knock them over and come up with a winner! These bin games are perfect for you to put up to 2 games, per 8-foot table, and thus creating an amazing carnival booth look for your next party or event.
Perfect for all ages!
The Duck Carnival Game Rental is so easy to win and play that it will be a perfect game to make sure you hit all your age groups at your party or event. It is easy enough for special needs or younger kids to participate but nostalgic carnival games that will be a great family and group carnival-style game.
Kick it up a notch!
Who doesn't love trying to knock down something and especially these cute little ducks? Create a trinket prize bucket to give to winners who might knock down 3 ducks with 3 tries, or make the odds easier if you would like.
Add Additional Party Rental Items to Your Order to Complete the Fun:
When booking items for your party or event do not forget the tables, chairs, party games, cotton candy machines, popcorn machines, snow cone machines, photo booth rental, airbrush tattoos, etc. 3 Monkeys Inflatables offers everything that you need to make your event or party, a success. You can either add individual items or party packages to complete your party needs with just a simple click of the button. Adding party games is low in cost but high in value and entertainment. Add-ons offer that special party accent and help keep the kids occupied and fully entertained.
Choose the BEST.
We are sure you want your party or event to be the best that it can be. Well, 3 Monkeys Inflatables wants your party to be the best too! We have been serving our customers in the Central PA and Northern MD area, with amazing events since 2007. 3 Monkeys Inflatables is physically located in York County Pennsylvania but we service the entire Central PA area. We have a giant list of repeat customers who love our business so much they come back to us year after year. Each year we also gain new customers who we hope to add to our list of repeat customers the following year. It does not matter how big or how small your event is, we know it is special to you and we treat it as such. If you are not sure what items to get, let our experts help you figure out what the perfect fit is for your guests. You can call us at 717.650.7657 or email us at info@3monkeysinflatables.com to get started on your party rental order!