Event Rental Platinum Package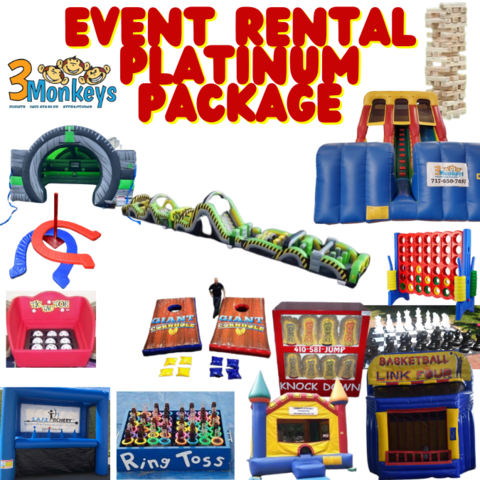 Description
Event Rental Platinum Package
York PA Platinum Party Packages
3 Monkeys Inflatables is proud to offer a complete event rental platinum package for your party and event rentals. We deliver in York, Lancaster, Harrisburg, and surrounding areas throughout PA and Northern MD. We make it easy to book with 3 Monkeys Inflatable and create an event in just minutes in your cart with all of your most popular event items. Below we will go into detail on all of the items and features that are included in this amazing package!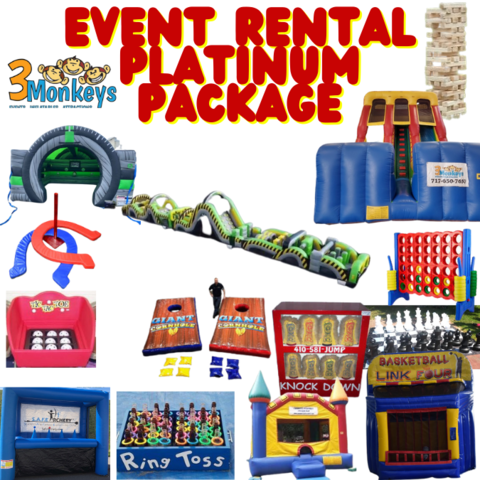 What's included in the Platinum Package?
The question should be what's not included in this amazing package! It has everything from our biggest obstacle course, our large castle bounce house, interactive play system dome, 18ft double lane slide, and just a galore of games and inflatable rentals.
Radical Run Explosion Obstacle Course
The Radical Run Explosion obstacle course rental is one of our largest race obstacle course that follows a race obstacle measuring 95 feet ! This is a huge obstacle with a extra long race lanes for side by side racers is the ultimate in competitive fun!
Interactive Play System Battle Dome
The interactive play system battle dome is an interactive play dome that has several different games. An example of one of the games is that two opponents enter the battle dome one is player green, one is player red. When their lights light up the opponent will capture their lights faster than the other player. The IPS scoring system keeps track of the score the entire time.
18ft Double Lane Dry Slide Inflatable
The 18ft Double Lane Dry Slide Rental is a large dry slide that allows participants to enter a shared middle area climbing the stairs to the top of the landing area of the slide. Each participant will fan off in opposites sides and be able to slide down the slide to the bottom. The 18ft Double lane slide allows guests to go two lanes at a time versus a slower single-lane version. Slide rentals are very fast-moving inflatable rentals that kids and adults enjoy a lot.
Basketball Game Rental
The Basketball Inflatables is a great basketball-themed game rental that is inflatable and allows two opponents to shoot basketballs together with this inflatable game rental. This is fun and entertaining to watch who will get the other in a game of skill, and of course strategy!
Giant Corn Hole Inflatable Game Rental
The Giant Corn Hole game is really fun for corn-hole enthusiasts but also for those just fun summer lawn game rentals that bring out the smiles in everyone! Who doesn't love to play oversized giant game rentals and you won't be disappointed when you see this very large corn hole game that will test even the best corn hole stars!
Giant Horseshoe Game Rental
Yes, it's giant and it's horseshoes, but a soft vinyl horseshoe, so safe to play just about anywhere you are hosting an event or party, and imagine the fun and picture opportunities you have watching participants try to hold these wacky huge horseshoes and try to toss them with the goal of getting it around the pole!
Tic Tac Toe Bin Game Rental
Tic Tac Toe Bin Game Rental is a classic game rental for fairs, festivals, birthdays, and just about any type of party or event that you are holding. The simplicity of the game and the fun nature of it make this a great classic game to have at just about any type of event.
Giant Connect 4 Game Rental
Giant Connect 4 Game Rental is a fun classic game that everyone adores and loves. This is a great lawn game to set up anywhere on your event site that will allow for kids, teens, parents, the elderly, and just about anyone to participate and have fun in this carefree easy game rental.
Giant Jenga Game Rental
The Giant Jenga Game Rental is a wooden tower game where you work with a group to see who can continue to take pieces of wood from the tower and place them at the top without toppling over the tower. Great to be set up on a pavement area or flat service area. Be careful this is a big Jenga plan to give this game some space as you will see all ages love this game and can play for hours with it!
Giant Chess Game Rental
The Giant Chess rental features a high-quality chess board mat with very large chess pieces to create your Giant Chess Game Rental for just about any type of lawn or party rental.
Hover ball Archery Target
The hover ball Archery target is played with a bow and arrow and you are to hit the targets that are hovering on the inflatable hover ball game rental piece. This can be a very unique piece as there is not a lot of archery units available for rent and so this is a great unique experience.
Ring Toss Carnival Game Rental
The carnival ring toss game rental is a great tabletop ring toss rental that is a classic game rental and perfect for young kids as well as adults.
Knockdown the Clown Game Rental
The knock-down clown game rental cabinet features bean bags to take a chance and throw and see if you can knock down the clown. This is a great fun game that especially kids really seem to adore.
Bounce House Rental
The 15x15 Large Bounce House Rental accommodates up to 8 guests or 800 pounds whichever you achieve first. It is a large bounce house rental with plenty of space to play and jump with your friends!
This entire package is included in the price listed for the Platinum Package. If you need to add generators for power across your event feel free to contact our office to request a generator quote for this package. Call our office at 717-650-7657 or email us at info@3monkeysinflatables.com
Planning a Birthday Party?
Check out our Cake Rental Party Package as a party rental option.