Feed the Monkey Frame Game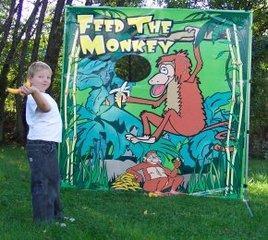 Description
Feed the Monkey Carnival Frame Game Rental York Pennsylvania Area
3 Monkeys Inflatables is your Monkey Carnival Game Rental Specialist for Harrisburg, Lancaster, Baltimore, Reading, Palmyra, Denver, Elizabethtown, and Millersville Area.
Monkey Fun
Your guests are going to go bananas, and everyone will want to feed the monkey! This game is both cute and fun. Step up and have a blast while throwing and trying to aim your "banana" into the hole by the monkey so he has food for later. You can award prizes, tickets, or simply have fun trying to compete! This game comes with 3 to 5 plastic bananas to use along with the canvas game backing. This is a great game for younger kiddos. Feed the Monkey can be set up indoors or outdoors and can be set up in less than ten minutes.
Add Additional Party Rentals to your Feed the Monkey Carnival Game Order to Complete the Fun:
Are you in need of additional party rental items? 3 Monkeys offers nearly everything you need to make your party a great success. If you are having a carnival-themed party and want to add more games for your guests to play, we have plenty to choose from! In addition to our frame games, we have bin games and inflatable games. You can also add tents, tables, chairs, cotton candy machines, snow-cone machines, popcorn machines, hot dog rollers, mini-fair donut machines (yum), a photo booth, virtual reality, gaming stations, and don't forget the inflatable rides! 3 Monkeys inflatables are sure to have the items you need to make your party the best that it can be.
When do you come to set up?
This is a quite common question from our customers. Whether you book online or via telephone with one of our reservation specialists, you are going to be asked the start time of your event. That start time signifies the time we aim to have the items delivered and set up for you and your guests to use. Your estimated delivery and pick-up time will be provided to you a day or so prior to your event once all the orders for that date are in and the delivery truck schedule has been made. It can be up to 2-3 hours prior to your event so please be prepared to plan accordingly. This is also the same for your pickup time. We list the end time of your event but can show up any time after, even upwards to 2-3 hours. If you need us to deliver or pick it up at specific times, we can do our best to accommodate this for an additional fee.
Delivery Locations
3 Monkeys Inflatables delivers party rentals to all Central PA and Northern MD. This does not mean if you are outside of the Pennsylvania and Maryland areas, we will not deliver to you. When in doubt, call our office at 717.650.7657, provide your city and zip code and we can tell you what your travel fee and required order minimum is. We deliver fun to Red Lion, Dallastown, York, Delta, Hempfield, Mohnton, Brownstown, Lancaster, Manheim, Birdsboro, Douglassville, Reading, Reisterstown, Randallstown, Owings Mills, Baltimore, Hunt Valley, Bel Air, and more!