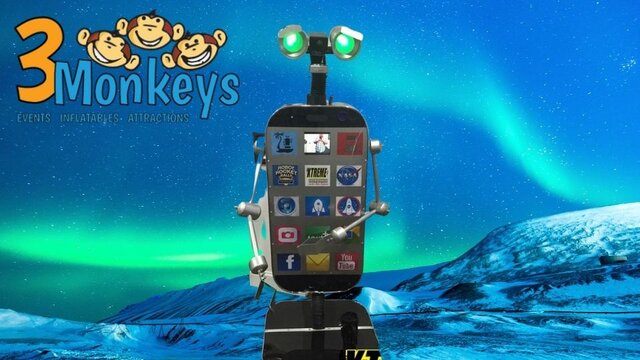 Description
Fonebot Robot Rental York
About the Robot for Rent
This life-size (5' 8" tall) walking, talking robot billboard from 3 Monkeys Inflatables is a real crowd-pleaser for young and old alike! He is very sturdy and can even serve snacks (no drinks are allowed on this, we have a special tray if requested ahead of time we can bring this along too!), or pass out promotional materials. Our Fonebot robot is fully mobile (he can go anywhere a wheelchair can). He can even spin his head 360 degrees to see where he has been! His chest-mounted video monitor allows you to see what he sees, as he is a very curious robot.
Robot Communication Rentals
Just like your phone, he vibrates when taking a call or shaking hands with a new acquaintance. The even cooler thing is that he has adjustable digital voice effects so that he can communicate with your guests! He will talk at will and can also be prompted to talk about anything specific to your event through remote access from its operator. There is a disguised microphone in the form of a travel coffee cup so that event-goers won't even notice who is the voice behind the robot. Make it look like you are sipping on coffee while in fact, you may be telling jokes, interacting with people at the event, acting as a walking encyclopedia, or giving a presentation. This robot rental is great for Trade Shows, Corporate Events, Grand Openings, Conventions, Open Houses, College Events, School events, and more! This rental does include an operator. Quotes given by our office staff are based on an event up to 3 hours time. Additional time at an hourly rate is available by request.The tray can be requested ahead of time for us to bring if needed however we don't allow drinks in it unless it is sitting and stay motionless and does not have opened drinks in it as they can spill and damage the robot.
Book your Robot Rental in Central PA
Book your robotic rental in York, Lancaster, Harrisburg, Baltimore, Bel Air, White Hall, Freeland and other popular cities throughout the Central PA and Northern MD area. The robot rental will add a whole different level of unique style to your next event and will really wow the pants off of your guests. To book the fonebot robot online simply add him to your cart and use our easy to use online checkout procedure. Be sure to enter complete information when filling out the fields. You will be required to pay a 25%, non-refundable deposit at the time of booking and the remaining balance can be paid the day of your rental.
Why Choose 3 Monkeys Inflatables as your Party Rental Specialist
We are a family owned and operated business that has been serving up amazing events for nearly 15 years. Like the fonebot robot we are always adding new and interesting items to our inventory to keep things fresh and fun! We have one of the largest inventories in our service area and make sure our equipment is clean and sanitized on a regular basis. What started with a few bounce houses has grown into an inventory of inflatable slides, waterslides, tents, tables, chairs, rock walls, bumper cars, and even catering. Give us a try to find out what the hype is about from our 5 star customers.