Fortune Teller Escape Room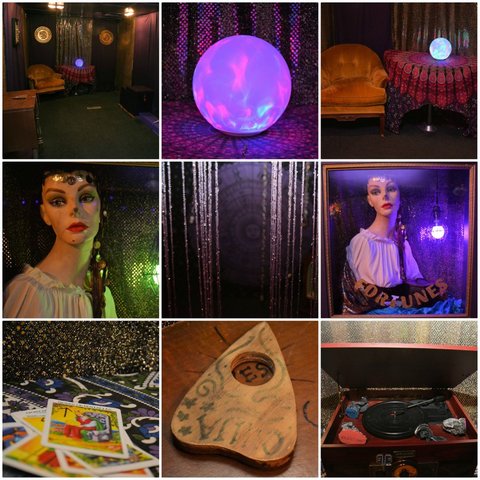 $5,000.00
Please call to reserve this item.

Description
Fortune Teller Parlor Escape Room
3 Monkeys Inflatables delivers the Fortune Teller Escape Room in Central PA & Northern MD area.
Fortune Teller Parlor
This is a 30-minute escape room trailer with a difficulty level of intermediate to advanced. What is nice about this room is that we have the flexibility of reducing the number of puzzles in this room to make it a 15-minute room.

Let us set the stage for you. You and your friends went to see a fortune teller and during your session she casted a spell on the parlor which has trapped all parlor goers inside with absolutely no way to escape. The only way to release the spell is to gain access to the fortune tellers black crystal ball, which she unfortunately keeps in her possession all times. You can see the crystal ball but cannot access it without working together as a team to solve the many challenging puzzles within the room. This escape room is extremely authentic, and you and your guests will feel like they are in an actual fortune teller parlor. There are eight different puzzles to solve once inside this room, for you to gain access to the crystal ball and release yourself from the parlor. Will you successfully solve the puzzles and be released yourself…? Or will you be trapped in the parlor for the reset of eternity?
The pricing you see here is for up to 3 hours and will come with an attendant of 3 Monkeys Inflatables.
Looking for more different and unique items to add to your event?
3 Monkeys Inflatables can give you the opportunity for you to offer your guests something different, unique, and memorable at your event, in addition to our Mobile Escape Rooms! One of the items that always leaves attendees awestruck is our Wax Hands. This is such a unique, intriguing process that this appeals to children and adults that attend your event. And do not forget the photo booth. What a better way to keep memories than to leave with a print from your custom designed photo booth print. If you are looking for some fabulous, wholesome, family fun, you will want to go check out our Bumper Cars! And if you really want to wow your guests be sure to inquire about our Rock Wall and Euro Bungy. The entertainment options that we offer our customers to choose from are vast and will really make your event the best one yet.
Will you deliver to my area?
3 Monkeys Inflatables has new and repeat customers all over Central PA and Northern MD. We love delivering the fun to every customer we have. Keep your eye out in York, Dallastown, Spring Grove, Stewartstown, Glen Rock, Felton, Brogue, Lebanon, Palmyra, Hershey, Newtown, Birdsboro, Douglasville, Hampstead, Bel Air, Manchester, Baltimore, Hunt Valley, and other cities for our delivery trucks. Just because you are not listed here does not mean we do not deliver to you. When in doubt do not hesitate to call us at 717.650.7657 to find out what the delivery fee and order minimum are to your area. We would love to bring the fun to your next party too!