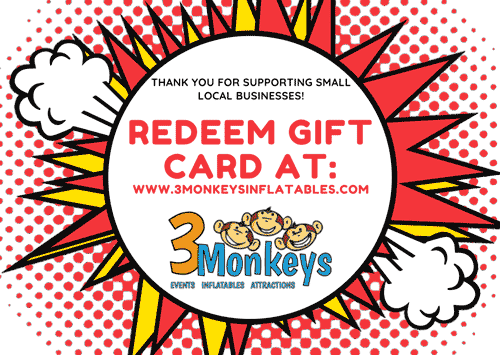 Description
$25 Gift Card for Bounce House, Inflatable & Entertainment Rental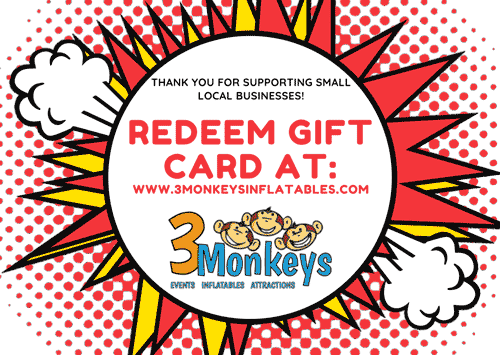 $25 gift card, birthday, and special event specialist providing rentals in York, Lancaster, Harrisburg, Hershey, and many more!
Gift Card Entertainment Rentals are available for purchase to purchase for your friends, family, co-workers, sports team, school, or any other organization you would like to purchase a special gift for. What better gift is there than a gift card to have fun, exercise, and burn off some mental fog! This is so great for little kids, teens, college students, and adults! We have over 400 rental items in our inventory that our Gift Card can be redeemed on. Think of the fun of providing a gift card to grandkids for their birthdays or Christmas, or a high school graduate for planning the best graduation party ever, perhaps a daycare that has served your kids well and you want to surprise the entire daycare with a day of fun...the ideas are endless and the best part is there is no expiration date on the gift card so feel free to go crazy and purchase the amount you are willing to gift and let the excitement and fun begin!
Gift Certificates make the Perfect Gift
We can't wait to see the smiling faces when we arrive with a special surprise for those special someone in your life. If you have any questions or of course need help with booking your gift card please feel free to reach out to us by phone at 717-650-7657 or 410-581-5867 or by email info@3monkeysinflatables.com or simply go onto our website www.3monkeysinflatables.com to see all of our products. We are only a phone call or email away to help!
How to book your Gift Card Purchase?
Gift Card purchases are easy to use on our website to rent all of our great selection of bounce house rentals, water slide rentals, obstacle course rentals, extreme inflatables, concessions, game rentals, virtual reality rentals, rock wall, euro Bungy, bumper cars, table, chairs, and tent rentals. Simply add the amount of the gift card you want in the cart, and click check out. Enter your information in the event information of your personal address and click finish my order. Pay the entire balance and hit submit and you will have a gift card purchase finalized with an email confirmation.
$