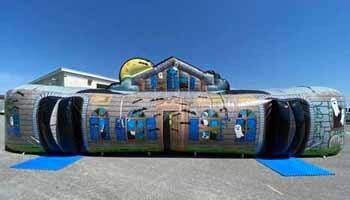 Description
Haunted House Maze Rental
3 Monkeys Inflatable

Rentals delivering to York, Harrisburg, Lancaster, Towson, Owings Mills, and more Pennsylvania & Maryland Cities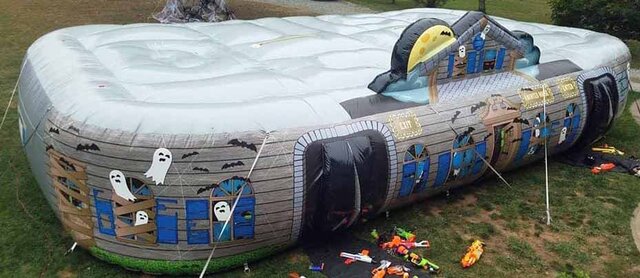 About the Haunted House Maze
Mazes are a great attraction to add to any mid-size or large-scale event. They add an element of intrigue and anticipation that you don't get from a regular inflatable. Our Haunted House Maze is a massive enclosed maze full of scary pop-ups and dark hallways to explore. Your guests are completely enclosed while in the maze as the unit has a bottom, walls, and a roof. The adventure is so much fun with so many areas to explore. You can use it as just a great Halloween maze or add extra elements to it for a nerf gun wars arena and so much more!
Perfect for all types of Event Rentals
Can you maneuver your way through the twists and turns and find your way out? This is a great attraction for fall festivals, harvest festivals, fall fests, and Halloween events. Or simply add the "haunted" theme to any other event. Your guests will be blown away by the beautifully, digitally printed graphics on the exterior of the unit making it the talk of the party. Kids get pretty excited about Haunted Houses in general and then you add the fact that this is a mobile, inflatable, haunted house that can go to just about any location indoors or outdoors and it takes Haunted House Attraction to a new level. Think of the fun your guests will have to explore this giant maze!
How to book the Haunted House Maze
Just follow above where it says add to cart and add your information in when prompted then after you check out with any major credit card you will get an email with a link so that you can digitally sign your contract. It's an easy process with our online real-time booking system. If you need to be assisted with booking or just want to talk with someone before placing an order feel free to reach out to us either by email at info@3monkeysinflatables.com or by phone at 717-650-7657. Be a few steps ahead and think about planning your holiday event too! If you're having a holiday event you don't want to miss out on your Holiday Express Trackless Train for rent!
Central PA Event Rental Superstore!
Don't forget about all our huge selection of equipment to add to your Haunted House Maze Rental. You can create your party package by checking out all of our other items for rent with some cool features below, but of course, feel free to call us and or email us info@3monkeysinflatables.com if you need help planning your event! That's what we are here to make your party/event awesome and make it easy!
Tents | Tables | Chairs | Concessions Rentals | Mobile Escape Rooms | Concessions | Giant Games | Carnival Games | Movie Screen Rentals | Trackless Train Rentals | VR Rentals | Catering Options | Racing Simulators | Water Slide Rentals | Mobile Axe Throwing Trailers | Dunk Tanks | Water Rentals and much much more!
This is how we clean
We are masters at our craft - and Bounce House, Inflatables & Entertainment is our passion. That comes through not only with our amazing inventory, great customer service but also with how well we care for our inflatables - and that includes cleaning and sanitizing. In fact, we have been using the same cleaner from 13 years ago when we started and to find out that it was one that the CDC recommends was just validating to us and our commitment to bring amazing and clean equipment to our customers. We are a trusted company that asks ourselves all the time - Is this the best for my child? If the answer is yes then we are a go for purchasing the equipment if it is not then regardless of popularity we don't purchase it. We hope you enjoy our youtube video posted below where you can see how we go about cleaning our equipment.
Frequently Asked Questions and Answers About the Haunted House Maze Rental
Q: Is the haunted maze a bounce house too?
A: No, the haunted house maze does not have an inflatable, air filled bottom. It does however have a vinyl floor that lays directly on top of the floor, grass, or asphalt.
Q: How big is the Haunted House?
A: The dimensions of the inflatable haunted house maze are 42'L x 24'W x 11'H. We do also ask for an additional five feet all around for safe setup purposes. Therefore the ideal setup space is 52'L x 34'W.
Q: Do I need electric to rent the haunted house?
A: Yes, this inflatable maze does require power. In fact it has 2 separate blowers each pulling about 9 amps. We like to be able to plug into power within 50' but we can plug into power up to 100'. If there isn't ample power within 100' you will need to add a large generator to this rental item.