Hot Potato Inflatable Game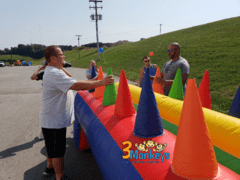 Description
Hot Potato Inflatable Game Rental York, PA
Hot Potato Inflatable Game Rentals delivering to York, Harrisburg, Lancaster, Baltimore, Reading, & other surrounding cities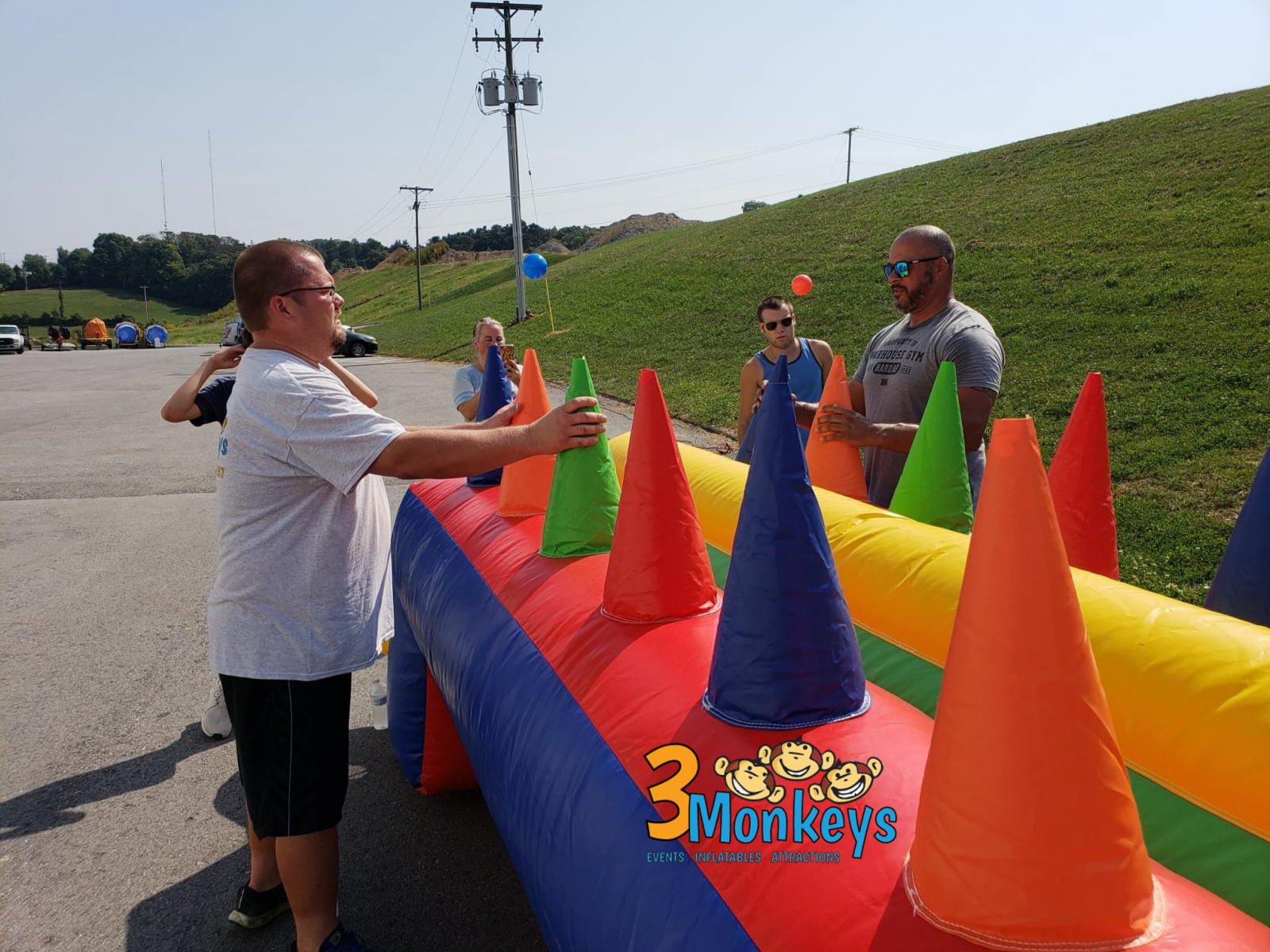 Hot Potato (Floating Balls) is a 12' long game with two rows of 7 cones each leading to a hoop at the end. The cones are open at their points to allow for airflow as the game is inflated. This creates a channel of air to hold up plastic balls that "float" above the cone. The goal of the game is to transfer the balls from cone to cone between each channel of air on your way to scoring the winning basket.
How do we play Hot Potato Inflatable Game?
One player from each team starts with the ball on one side of the game. They must transfer the ball down the line on their side of the inflatable and ultimately into the basket at the end of the lane. Then the next player from that team picks the ball out of the basket, places it on the cone of air above the first cone, and works their way back down the lane to the other basket. And so on and so forth. This is a great team-building game that can accommodate as many or as few participants as you want. This is a great game for any event and is fun for the players as well as the spectators.

Details on Hot Potato Game
Check out the game rental and see why this game is a popular game of all ages and abilities. It's designed to be a game that challenges your balance of the ball while coordination of passing from cone to cone without losing focus and dropping the ball - of course, you are doing all this while the team across from you is doing the same goal so the pressure is on and the challenge begins.
Will you win for your team or will you put your team behind? You can play this one player or you can play this with an entire line of players on each team until the last player goes. This is definitely a great team-building, communication, and ability skill game rental.
How to book Hot Potato Inflatable Game for Rent?
Booking is simple by following the steps after you place the game rental in the cart. You can simply keep shopping and adding games for rent, inflatables for rent, as well as our concessions, tents, table & chairs for rent and when you have finished click checkout on your cart, and add your event and contact details and finalize your order with your 25% deposit. The remainder is not due until the day of your event at drop-off. As always if you need help booking give our office a call at (717) 650-7657 or email us at info@3monkeysinflatables.com
Hot Potato Inflatable Game Delivery Area
We deliver all party rentals and inflatable rentals to cities in Central PA and Northern MD. Some of the cities we frequently deliver to include Red Lion, York, Glen Rock, Lancaster, Millersville, Columbia, Manheim, Littiz, Baltimore, Bel Air, White Hall, Cockeysville, Owings Mills, and more. Each city does have a delivery fee and an order minimum requirement. If you would like a complete quote please contact our office staff.
What Other Game Rentals Would Go with the Hot Potato Inflatable Game?
We have a rather large carnival game inventory and many of them include inflatable games for rent. These games include speed pitch, hoverball archery, homerun derby, ice hockey shootout, basketball toss, qb blitz football toss, battle ship, and skeeball to just name a few. We also have traditional carnival games like knock down the clown, flip a frog, and ring toss. Party games are so much fun and will give your guests plent to do at your event.