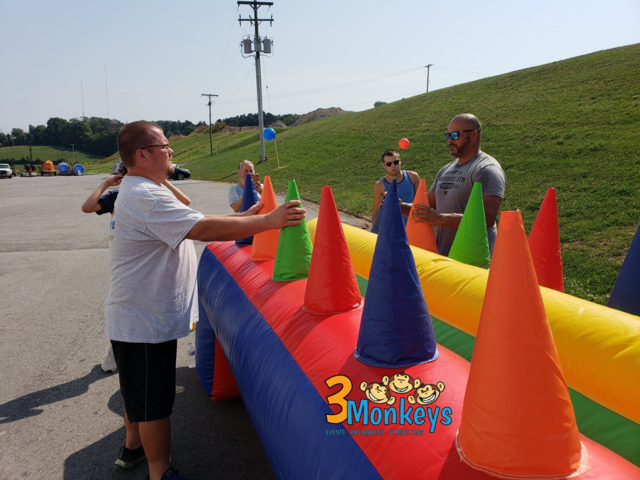 Hot Potato Inflatable Game
Hot Potato Inflatable Game Rental York, PA
3 Monkeys Party Rentals delivering to York, Harrisburg, Lancaster, Carlisle, Baltimore, Reading, and more Pennsylvania & Maryland Cities
Hot Potato (Floating Balls) is a 12' long game with two rows of 7 cones each leading to a hoop at the end. The cones are open at their points to allow for airflow as the game is inflated. This creates a channel of air to hold up plastic balls that "float" above the cone. The goal of the game is to transfer the balls from cone to cone between each channel of air on your way to scoring the winning basket.
One player from each team starts with the ball on one side of the game. They must transfer the ball down the line on their side of the inflatable and ultimately into the basket at the end of the lane. Then the next player from that team picks the ball out of the basket, places it on the cone of air above the first cone, and works their way back down the lane to the other basket. And so on and so forth. This is a great team building game that can accommodate as many or as few participants as you want.
This is a great game for any event and is fun for the players as well as the spectators.