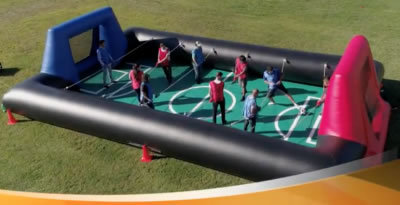 Human Foosball (#21)
Human Foosball Rental Central PA
3 Monkeys Party & Event Rentals delivering to York, Harrisburg, Lancaster, Wyomissing, Towson, Owings Mills, and more Pennsylvania & Maryland Cities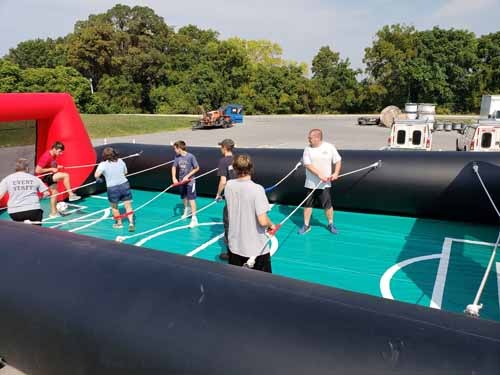 Human Foosball Rental Play Details
Human Foosball Rentals in Central PA are one of those interactive inflatables that are for sure going to add energy, excitement, and crowds to your event! With this game, you can have up to 10 players at a time to work participants through quickly. This incredible live version of the foosball game that you remember playing on a tabletop or arcade game as a kid. It provides a 5 on 5 challenge that can build excitement quickly. With Human Foosball, you can easily create the perfect team-building event for corporations or school, church, or college events. Everyone loves Foosball. This life-sized inflated version provides an even better challenge and excitement when players get on-site and realize they are the guys inside making the plays.
Great for large event rentals!
The human foosball game is known for encouraging large event crowds. Human foosball (also know as the name "Table Football") is quite possibly the absolute craziest team-building game to get your crowd working together. We have used this ourselves with our staff to create an amazing team-building event and it was amazing to watch & play! The game takes regular foosball game play and makes it life-sized. Players have to work together, moving side by side, trying to kick the soccer ball.
Looking for more Giant Games?
Looking for other versions of giant games? A wide variety of larger-than-life, oversized games indoor and outdoor event activities are available as a rental service through our website or simply by emailing us or checking out our catalog.
Human Foosball Specifics
It is great for all ages and can be played indoors or outdoor. The Foosball arena is a 40 x 23 x 10 ft. Since this game is only 10ft tall, it can go indoors with ceilings of 12ft tall or taller. Weather will not affect the ability to play this game since the unit is able to work indoors or outdoors. Mixed ages can play this game together and have fun. This game is the perfect addition to any event and can occupy 10 players at a time.
To Book the Human Foosball
To reserve the Human Foosball for your event, simply click on the add to cart button below and then select your date and times, and then simply follow the directions to complete your order and pay the deposit. As always you can reach out to us via email or give our office a call to help you place the order at 717-650-7657 | 410-581-5867
Staff Party with Human Foosball
The above pictures are taken from one of our staff parties during the spring where we got out multiple rental items and shared them with our staff for a Team Building event. This by far was one of the most popular, and loud games we had to go to as everyone young, old, sports folks and non-sports folks all loved playing this game together. The level of commodore and fun it brought to our event is second to none.