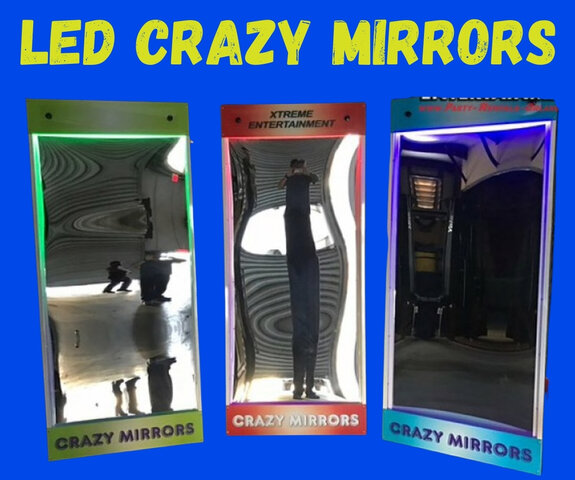 Description
LED Crazy Mirrors for Rent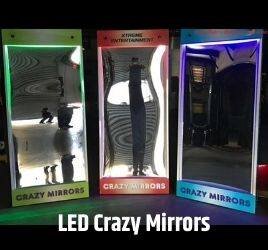 Crazy Mirrors Rentals in LED in Central PA
LED Crazy Mirrors from 3 Monkeys Inflatables are LED-lighted versions of good old-fashioned Funny mirrors that make your arms look like spaghetti and your feet the size of pumpkins! Each Mirror has an LED light that can change to different colors. If you need to keep your guests entertained then look no further than our Crazy Mirrors. You'll be amazed at how well our Crazy Mirrors will capture and hold the attention of both children and adults alike. Kids especially will stand around your mirror for hours laughing and giggling at how funny they look. Your Crazy Mirror will also be a great way to teach kids and teenagers not to take life "too seriously". Life is so much better when you can learn to laugh at yourself a little.
Details on the L.E.D Mirrors
Rental price quotes available from 1 to 3 mirrors, the pricing above is for all 3 mirrors for your event. The Fun Mirrors really add a lot of fun to your party or event. We can add custom branding available for an additional fee as well if you are adding these for Corporate Events, Community Events, or any special theme. Dimensions: 7'HX3'WX13"D
Book your Fun Mirrors
Get ready to have some fun with these crazy LED fun mirrors. Simply add them to your cart, choose your date and times up to 8 hours, and add your contact information and event information, and a 25% deposit. After you complete your deposit you will get a confirmed email receipt.
Crazy Mirror Event Rentals
Whatever you decide to call them from Crazy Mirrors, Fun Mirrors, Fun House Mirrors, and so much more. They are great at just about any type of event from kids rentals through teen, college, and adult rentals. Think of the fun you can have for school-age children for them to run up to a mirror and see some fun reflections stare back at them. How cool to have it for preschool events, maydays, festivals, and graduation elementary events! For middle school, high school, and college students the fun begins with these mirrors to create Snapchat, Instagram, Tik Tok, and more! Adult parties are fun to play in crazy mirrors, event weddings, showers, senior home events, and so much more!