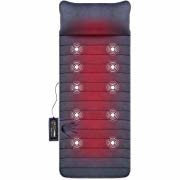 Massage Mats
Massage Mat Rental (with or without Lounge Chair)
3 M
onkeys Party Rentals delivering to York, Harrisburg, Lancaster, Carlisle, Baltimore, Reading, Camp Hill, and more Pennsylvania & Maryland Cities
Massage Mats Rental Details
3 Monkeys Inflatables is proud to offer a massage mat rental that is conveniently adding to a comfortable zero gravity chair allowing for a quick and easy setup and tear down for your stress relief events. We even have a relaxation tent rental that fit two massage mats/chairs along with a small table that we can setup a salt lamp, or essential oil diffuser with aromatherapy and/or music playing to set the relaxation mood. The Vibration Massage has 10 massage points to provide a soothing full body massage to help with stress, aches, tension, and eliminate fatigue. It has 3 intensities that can be customized to what suites your needs along with 4 selective massage zones. This is a vibration massage not to be confused with a shiatsue massage. Soothing Heat is in four targeted areas in the upper back, lower back, thighs and calves to sooth and loosen tense muscles and imporve blood circulation. The massage pad has a convenient 30 minute shut off for safet use.
What do you get in this Massage Mat Rental
You will receive for your rental (2) Two Massage Mats, (2) Two Lounge Chairs, and (1) Black Privacy Tent. You may request to add a salt lamp, aromatherapy diffuser with aromatherapy for the rental for just $20 more for up to 4 hour rentals. You can add an attendant to this rental for $30 per hour to manage setting everyone up in their massage chairs, spraying the mats with disinfectant in between use, offering eye covers, and setting music, or aromatherapy up in the room and refilling it as necessary. They would also control the line and setup times on what you would like whether that is 10, 15 or 30 minutes massages per room the attendant will manage the time management and ensure they are followed. If you have questions about this rental or want to go ahead and book it please either add this to your cart on our website and check out or give our office a call Monday - Saturday 9am-5pm at 717-650-7657 or 410-581-5867.
Still need help booking?
3 Monkeys Inflatables makes booking with us easy! Simply call, email or book online with our real-time booking system and we will simply just need your event information, date, times and some contact details along with a 25% deposit and we will take care of the rest. Fast, easy and simple!