May Day School Carnival Package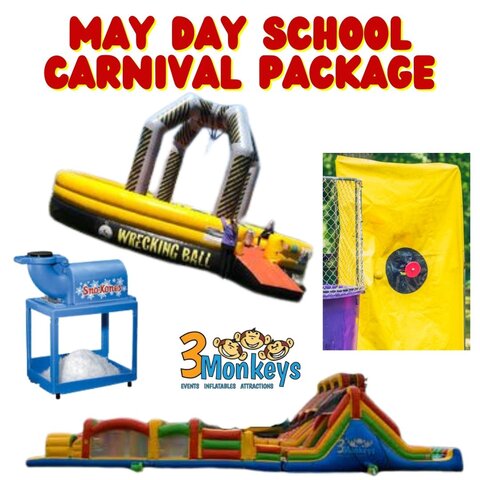 Description
May Day School Carnival Package
With the 3 Monkeys Inflatables Mayday School Carnival Package, you get 4 amazing combinations of Inflatables, Dunk Tank, and concession in one package. Your event will enjoy the Wrecking Ball Interactive Game, 65ft Obstacle Course, Dunk Tank, and Snow Cone Rental. Warning: the combination is a great selection of fun and interesting attractions!
Wrecking Ball Interactive Game
To play the Wrecking Ball Interactive Game all participants will climb onto the inflatable and pick one of the four pedestals to stand on. The pedestals are inflated air pedestals that up to 4 participants stand on. The participants take turns throwing the wrecking ball at each other trying to knock them off the pedestals. The participants are working on staying on their feet while balancing on the air-inflated pedestals while a ball is swinging at them. If you fall off or land on your knees you are out of the game. Last player to be left standing wins. This is a fast-paced fun and adrenaline-pumping game that will be fun to watch and play.
65ft Obstacle Course
The 65ft Obstacle Course is our most sought-after obstacle that not only is a beautiful piece that will be a centerpiece for drawing guests and excitement to your event but it also is a fun obstacle that is perfect for grade school through adults. This is by far our most popular piece from grade school, middle school, high school, college, church, birthday party, grand opening, and just about any reason to have a party type of inflatable. It is perfect in length and has awesome elements in it that are rated #1 in fun. Check out the pictures of this 40ft long obstacle and the attached 25-foot long slide that makes up this 65ft Obstacle Course.
USA Dunk Tank
The 550 gallon Dunk Tank is a popular May Day, Carnival, Fair, or Festival must-have item. This is often seen at National Night Outs and Grand Openings along with Team Building events. The object is to Dunk the person on the Dunk Tank Seat by throwing a softball at the target. If you hit the target it releases the seat and therefore dunks the person on the seat. This is a fun game to test your throwing and aiming skills and also can be fun for a lively excited seat holder that is open to being the dunked guest! Great for coaches, bosses, moms, dads, birthday guests you name it it's a fun game to have at any type of event to draw crowds and add excitement!
Snow Cone Machine Rental
Our Snow Cone Machine Rental comes with both the snow cone machine along a care package to make up to 50 cones for your guests. Just add ice. We have thought of everything you need to have the perfect snow cone machine rental. This includes the paper cones, the liquid flavoring (3 different types: Blue Raspberry, Rootbeer, and Cherry) along with a plastic glove to protect from any germs to whoever is doing the serving to the event a plastic scooper to make sure you have everything you need. We do not supply ice however so that is the only thing you will need to get for this package. This rental just needs a few bags of ice and a cooler to put the ice in while it's waiting for us. If you need a cooler please feel free to rent one from us!
This package includes:
This does not include any applicable sales tax or delivery charges. Looking for something with a little bit more? Check out our Mega May Day Carnival Package that we offer!