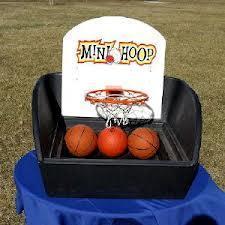 Description
Mini Hoop Basketball Carnival Game
3 Monkeys Inflatables is your Carnival Game and Bin Game Rental Specialist in York, Lancaster, Harrisburg, Ephrata, Hershey, Hagerstown, Elizabethtown, Gettysburg, and Baltimore Area.
How to Play Mini Hoop Basketball Game Rental:
He shoots, swish, he SCORES! Shoot at the baskets in this mini hoop basketball carnival game to see if you can sink the ball. You can easily have participants from two different lines according to different age groups for this game. This is a nice size basketball game to have on a small table or you can have up to two bin games, per 80-foot table to create an amazing carnival booth theme for your next party or event. Dimensions: 30x30.
Shoot baskets in this mini hoop carnival game to see if you can sink the ball. You can make 2 different lines that you can have different age groups use for playing this game rental. This is great to have on one table or you can have up to 2 bin games per 8-foot table to create an amazing carnival booth theme for your next party or carnival event.
Carnival Game Rental
The mini hoop carnival game rental is perfect for your carnival-themed party, community carnival, fire department carnival, or school carnival. It's an easy-to-play game that takes very little skill and therefore it makes it perfect for the littlest kids to take a chance at making a basket to bigger kids and adults who can test their skills simply by having two different shoot lines for skill level. We have many carnival bin games to choose from that are easy setups that can be featured on the own legs of the bin game or simply by putting on a table to have it up higher. Whatever you choose these are fun inexpensive games to have at a party or event where you can add multiple stations and give yourself a bigger footprint for your events.
Complete your party rental with additional items.
3 Monkeys can be your one-stop party rental shop with the variety of rental items that we offer. Did you know we even offer catering services? Are you planning a corporate event or large family picnic? Our picnic-style catering has been quite a hit at events. You can also get your tents, tables, and chair rentals through 3 Monkeys Inflatables. Take your event to the next level with entertainment options for guests of all ages. Start by grabbing a great centerpiece item like the Rock Wall and Euro Bungy, the Bumper Cars, the Mechanical Bull, or the Grand Slammer Meltdown. Then add other inflatable ride options such as Bounce Houses, Obstacle Courses, Dry Slides, Combo Bouncers, or Extreme Interactives. Pick a few carnival games from our Bin Games, Inflatable Games, and Frame Games to keep your party guests moving and having fun. Finally, offer them a carnival goody like Cotton Candy, Popcorn, Sno-Cones, or Mini Fair Donuts! Let us take the stress off your shoulders by being your one-stop party rental shop.
When do you set up?
One of the most common questions we get from our customers is, "What time will you be here to set up?" This information will be provided to you a day or so prior to your event once all the orders have been received for your party date and the delivery schedule has been designed. We do ask for you to allow for up to a four-hour window for both delivery and pickup. We also request that the information you provide for times when checking out online or doing your order with an event specialist, be the actual start and end times of the event itself, not when you want it delivered. Please also keep in mind you are required to stay with all rental equipment until it is picked back up by our company. If you need more specific delivery and/or pickup times we can do our best to accommodate this request for an additional fee because we will likely need to run a truck just to meet your needs. If you have any other questions please contact the office by calling 717.650.7657 or emailing info@3monkeysinflatables.com. 3 Monkeys proudly serves the Central PA and northern MD delivery area.