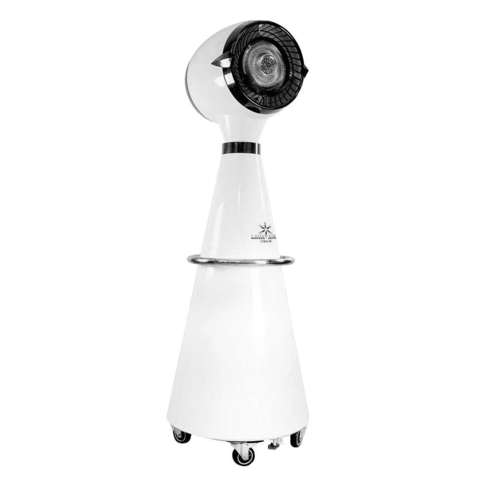 Description
Misting Air Fan Rental York, PA
York Misting Fan Rentals
This misting air fan rental is great for use inside tents as well as on a back patio. The Aviator Evaporative Cooling and Misting Fan will send cooling breezes throughout your backyard area. Inspired by modern-day turbojet engines, The unit does double duty with the power of wind and water. The Evaporative Cooling and Misting Fan have a compact 15-inch diameter blade that provides serious wind power (1,700-RPM), while the centrifugal misting system further cools the air, dispersing fine mist particles (10-25 microns) throughout the coverage area. People worldwide are enjoying this revolutionary cooling product on decks, patios, outdoor kitchens, pool and spa areas, and virtually anywhere that needs a temperature drop.

Misting Fan Rental details
The Aviator Evaporative Cooling and Misting Fan's 25-gallon water tank provides up to 16 hours of uninterrupted cooling. The Aviator's integrated water line connection allows for continuous operation. It also includes a built-in water float control mechanism to prevent overflow or water spillage, further increasing this unit's versatility is its 90-degree oscillating fan head with coverage up to 600 sq. ft., reducing temperatures by as much as 30 degrees. Keep in mind we will need a hose connection for this misting air fan as well as a standard electric outlet. This all needs to be provided in close proximity of the misting fan so we are not adding a long hose or electricity too far from the source to keep the most amps on the actual misting fan for the best performance.
How to book the Misting Fan Rental
To book the Misting Fan Rental you simply need to add the misting fan to your cart, after you have chosen all the items you want to add, then simply click Check out on your cart and finish the details for the Drop-off location, along with your contact information as well as securing the rental with a 25% deposit. Once you complete the order with your deposit you will receive an order placed email serving as confirmation of the order in our system. Our friendly office staff will be in touch via email or phone call typically 2 days prior to your rental to let you know what time we will be arriving.
Service Area
We deliver to all of Central PA, & Northern MD. IN popular cities like York, Harrisburg, Lancaster, Reading, Baltimore, Towson, Sinking Springs, Ephrata, Lititz, Gettysburg, Hanover, and many more. If you are not sure if we deliver to your area give us a call at (717) 650-7657 or email us at info@3monkeysinflatables.com. We are happy to chat with you regarding our delivery area and service you with some great event & party rentals near you.