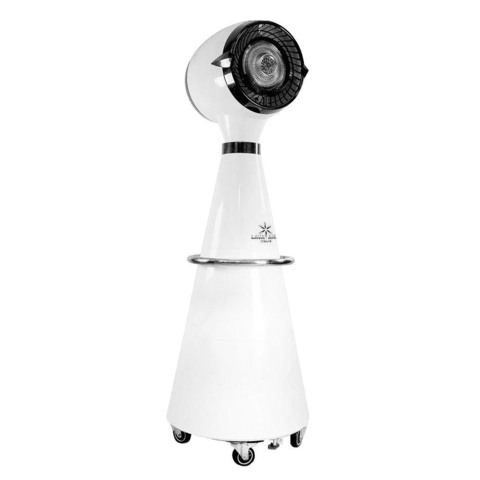 Misting Air Fan
Misting Air Fan Rental York, PA
This misting air fan rental is great for use inside tents as well as on a back patio. The Aviator Evaporative Cooling and Misting Fan will send cooling breezes throughout your back yard area. Inspired by modern day turbo jet engines, The unit does double duty with the power of wind and water. The Evaporative Cooling and Misting Fan has a compact 15-inch diameter blade that provides serious wind power (1,700-RPM), while the centrifugal misting system further cools the air, dispersing fine mist particles (10-25 microns) throughout the coverage area. People worldwide are enjoying this revolutionary cooling product on decks, patios, outdoor kitchens, pool and spa areas and virtually anywhere that needs a temperature drop.

The Aviator Evaporative Cooling and Misting Fan's 25 gallon water tank provides up to 16 hours of uninterrupted cooling. The Aviator's integrated water line connection allows for continuous operation. It also includes a built in water float control mechanism to prevent overflow or water spillage, further increasing this unit's versatility is its 90-degree oscillating fan head with coverage up to 600 sq. ft., reducing temperatures by as much as 30 degrees.

Keep in mind we will need a hose connection for this misting air fan as well as a standard electric outlet.