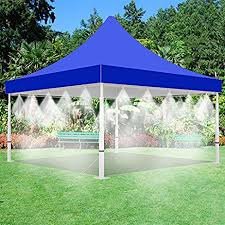 Description
Misting Tent Rental York Pennsylvania Area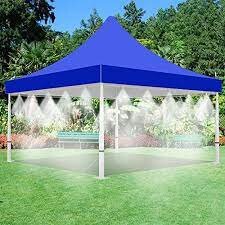 Misting Pop Up Tent Rental Specialist in Harrisburg, Lancaster, Hanover, Hershey, Reading, Baltimore, Towson, Hagerstown, Carlisle and Elizabethtown Area.

Our Tropical Misting Tent is 10x10 and is great for those hot days where you just want to relax and keep cool. The tent sprays a gentle mist while you sit comfortably in the shade. (Tents may come in red, blue, or any other color not shown based on what we have available that day in our inventory)
Just add a water hose!
The tropical misting tent rentals are great for backyard parties, birthday parties, graduation events, BBQs, summer outings, Retirement parties, showers, grand openings, camps, school events, church events, VBS, and many other types of event and party rentals where you expect it to be in the heat of the day and want to offer your guests a space to sit or walk over to if they are getting overheated or just need some relief from the hot sun. These tents are great for 5K runs, and activities outdoors where the sun is out in the afternoon and strong and participants are likely to get overheated. You can add several of these tents throughout the area of your event the only thing you would need to ensure is you place it in a location that you will have a water hose available to attach to the misting hose in order to have the misting feature. We do also carry just regular 10x10 popups if you are not able to get hoses to all locations. Perhaps you consider mix and matching with the regular pop-ups with the misting pop-ups to the areas you don't have water hoses.
SetupWe prefer to set up the 10x10 popups on grass, however, we are able to set up on asphalt when needed however you are responsible while they are on your site to keep track of the wind and pull them down if the wind starts to get too breezy so they don't become a risk of flying in the air. We will go over with the staff to set up the instructions for safety.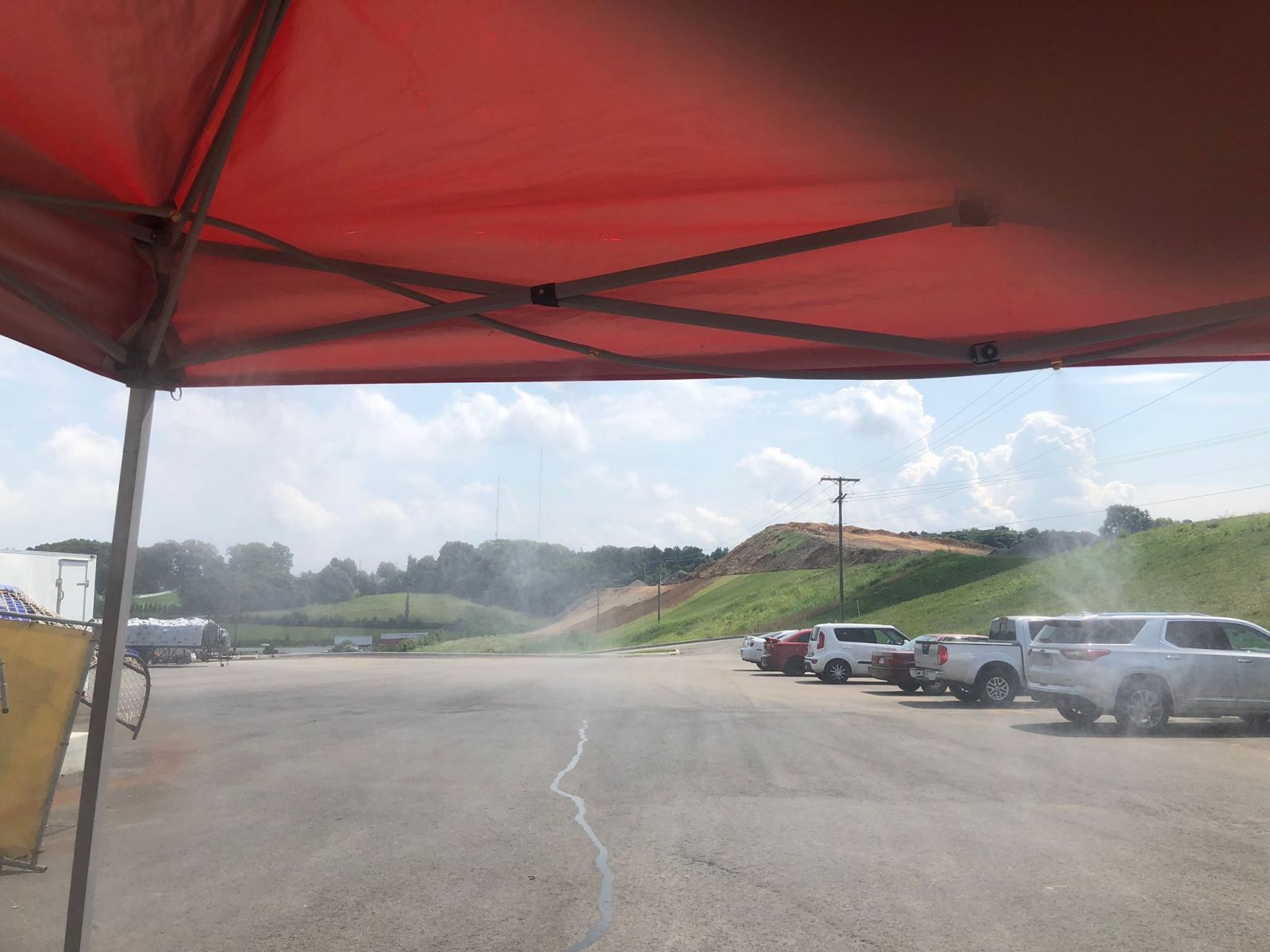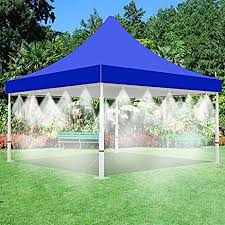 Requirements:
1 water source (hose)
Outlets: n/a
Attendants/Monitors: This item requires (1) Attendant to stay with the unit while in use. You may use your own attendant, or book an attendant with us here. Read more about attendants here.
Setup: We would need to know specifically if it will be on grass or asphalt a minimum of 5 days prior to your booking. All anchors need to be secured using a spike or sandbag according to the manufacture's guidelines. We prefer to use ground stakes when possible, if this is not an option we will need to anchor using sandbags.
Setup Location:
1. Your setup location needs to be free of rocks, pet waste, sharp objects, or any other hazards.
2. We cannot set up under any utility lines and must have a clearance of 5 feet in all directions away from any obstacles.
3. Please make sure you clear a spot for us to park & unload the equipment as close to the location as possible. If your parking is further than 75 feet please notify our office or put it in the notes portion of your booking.
Includes:
Professional setup/tear down.
We are registered with the Dept of Pennsylvania/Maryland State Amusement Industry
We have Liability Insurance
Pre and Post Event Cleaning, Sanitizing and Inspection
Staking and/or Sandbagging
Tarping (not indoors as it becomes a safety concern)
Extension Cords (we bring out the extensions needed to get electric to the spot you are setting up in) Keep in mind we can only go 100 ft max.
Safety Training