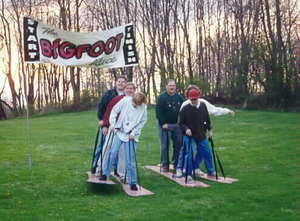 Monkey Feet Challenge Game
Monkey Feet Challenge Game York Pennsylvania
Monkey Feet Challenge oversized Game Rental specialist in Lancaster, Harrisburg, Hershey, Baltimore, Reading, Millersville, Hagerstown, and Hanover Area.
Team Building Challenges
Work as a team to race down and back on our over-sized Monkey Feet Challenge Game! Each set of monkey feet can have up to three participants at a time on them. the objective is to work together to move the large planks one at a time to the end of the lane, stop turn around and come back to the finish line the fastest!
Giant Game Monkey Feet Interactive Fun
The great benefit for groups of the giant monkey feet game is that it really draws in a crowd watching everyone either work together as a team to move the monkey feet or to fail as a team and fall over and over again trying to each work on their own to move the feet while the objective is to work together as a team to move the feet forward and be able to get into a routine through the course of working together to get to the finish line. Another great benefit to this game is it requires no power whatsoever so it's an easy setup and clean-up and can fit into your event or party setting and be put just about anywhere without having to worry about power to this game rental.

Includes:
2 sets of monkey feet
start and finish framework and banners
Delivery Area
3 Monkeys Inflatables is proud to offer delivery within the Central PA area and Northern Maryland area in cities like Harrisburg, Lancaster, York, Hershey, Fawn Grove, Hanover, Lititz, Enola, Dallastown, Ephrata, Reading, Sinking Springs, Boiling Springs, and many more!