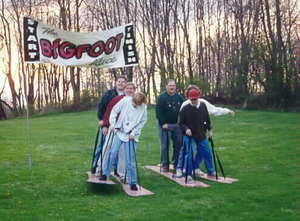 Monkey Feet Challenge Game
Monkey Feet Challenge Game York Pennsylvania Area
3 Monkeys Inflatables your oversized Game Rental specialist in Lancaster, Harrisburg, Hershey, Baltimore, Reading, Millersville, Hagerstown, and Hanover Area.
Team Building Challenges
Work as a team to race down and back on our over-sized Monkey Feet Challenge Game! Each set of monkey feet can have up to three participants at a time on them. the objective is to work together to move the large planks one at a time to the end of the lane, stop turn around and come back to the finish line the fastest!
Includes:
2 sets of monkey feet
start and finish frame work and banners
Copyright © . 3 Monkeys Inflatables LLC. All rights reserved. Red Lion PA (717) 650-7657