New Giant Jenga Tower Game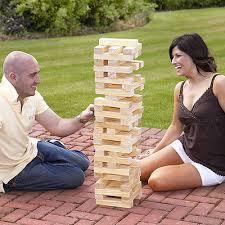 Description
New Giant Jenga Tower Game York Pennsylvania Area
Giant Jenga Tower Game Specialist in the Harrisburg, Lancaster, Camp Hill, Hanover, Reading, Baltimore, and Dallastown areas.
Giant Games are perfect to add fun to any party!
New Giant Jenga Tower Game is a classic building game that can either be played with a team play or individual play. This is such a fun carnival game of logic, strategy, and a steady hand. If you are the one who can't place the Jenga piece on top of the tower or can't pull a piece out successfully without knocking down the tower then you lose the game. This is a great game for families, festivals, schools, colleges, corporate events, corporate picnics, open houses, and so many other types of events. This game is a game that both young and old can participate in and be good at and not be too complex. This is not something that you will find will be too hard for a small child (other than they may need assistance reaching the top of the tower if they are very small). We deliver with qualifying orders throughout Central Pennsylvania and Northern MD in popular cities like York, Lancaster, Harrisburg, Hershey, Lititz, and surrounding cities.
Create Game Rental packages!
We have other Giant Game Rentals available so you can make an entire theme built around the Giant Games for your event/party. We can customize a package for your event rental, paying attention to suggestions of what you may want to see at your event but also making sure we stay within your budget that is necessary for you to adhere to in order to have the event. We simplify the event booking process by getting the details and creating packages that will get your participants excited. Check out our online catalog for some ideas
here
.
Great for all ages!
If you are looking for the perfect addition to provide to your participants in regards to other options with games New Giant Jenga Tower Game is definitely a must-have for any event. It's easy to play and learn the rules and that makes it a winner on all age levels. You won't be disappointed when you have this as part of your event. It's great for the quiet kids/adults that are not going to run around on inflatables but would rather play quietly and be entertained on their level. This allows you to fit it into all of your group personalities.

Check out these awesome videos! Remember to like and share our youtube videos.
How to play Giant Jenga Tower Game