New Giant Pick Up Sticks Game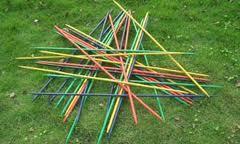 Actual Size: 21-36" in length
Description
Giant Pickup Sticks Game York Pennsylvania Area
3 Monkeys Inflatables is your Giant Classic Game Rental Specialist in Harrisburg, Dallastown, Lancaster, Baltimore, Hagerstown, Hershey, Hanover, and Reading.
This is a GIANT version of a popular game Pick Up Sticks! Create an amazing party with oversized Games that will leave everyone talking about what a great time they had. Do you remember the pickup sticks that come in the long skinny box from childhood? We have them but they are Life Size! Think of the imagination and fun you will have when your have your next party and event and have oversized childhood games all over the lawn and/or in your indoor space. You can start your party with the Giant Games and add a few inflatables to top it off and sprinkle a little concessions for that extra bit of sweetness to your party!
You will need steady hands to succeed in your game. Try to remove each stick in turn without moving any of the others.
How to play Pick up Sticks.
Players are to agree in advance on how many points are required to win the game. (I.E.: 500 or 1000 points).

To Begin: The first player vertically holds all Pick Up Sticks in one hand making sure that one end of the sticks remains in with the playing area, the player quickly releases his/her hand and lets the sticks scatter.

This player proceeds to pick up the sticks, one by one. The only stick that is allowed to move is the one the player is trying to pick up. If any other stick moves, that player's turn is over, and play passes to the next player on the left.

The next player may continue to pick up the remaining sticks until one moves or choose to begin again, by gathering up all sticks, and once again letting them scatter in the playing area.

If a player is successful in picking up the Black stick (called the Master Stick), that player is permitted to use the Master Stick for removing other sticks. (For example, to separate two sticks that are lying close together, or to flick off one stick that is resting on another stick). No other stick may be used in this way.

If a player successfully picks up all sticks, that player begins again, and continues to play until he/she loses his/her turn.

As each player finishes a turn, they should add up the points earned on the sticks successfully picked up. The first player to score the required points to win is declared the winner.

If a player picks up, in order, a red, blue and green stick, that player's score for those specific sticks doubles in point-value.
Number of Sticks Color PointValue
1 Black 25
5 Red 10
5 Blue 15
5 Green 20
5 Yellow 5